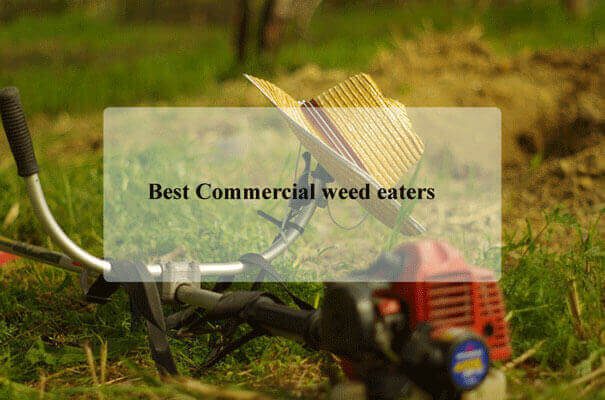 Best Commercial Weed Eaters-Buyer's Guide & Reviews
---
Landscaping and maintaining your lawn offer the best ways to improve the quality of your home. To achieve this, you need the best tools. The lawnmower comes in handy but that's not all. When you want to make the final touches on your lawn after mowing, you will need the best commercial weed eater, also known as string trimmer or weed whacker. This tool is what you need to edge your grass after mowing.
A regular lawn eater will be great for small lawns. However, if you have huge or multiple lawns to mow then you will definitely need the best commercial string trimmer. With the many brands of commercial weed eaters currently in the market, how do you go about finding the best? What features describe a reliable, effortless to operate and greatly performing weed eater? This in-depth review and buyers guide will answer these and other related questions.
Before reviewing our top 5 picks, we will look into some important features and specifications to look out for if you are looking to find the best commercial weed trimmer.
---
Our Pick: BLACK+DECKER LST136W String Trimmer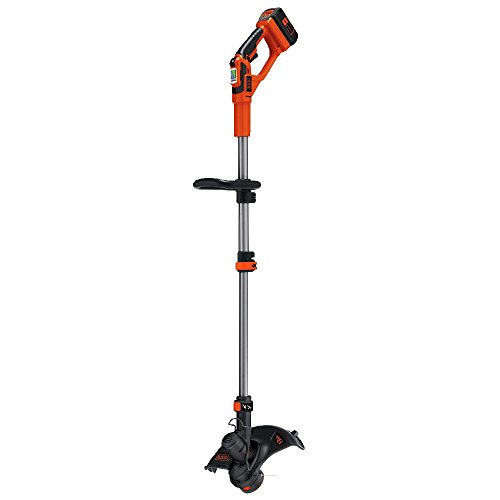 We cast our die and it fell on the BLACK+DECKER LST136W 40V String Trimmer. The telescopic design of its shaft guarantees superior convenience. The design also improves coverage allowing you to finish your job in record time. This commercial weed eater gets its power from a Lithium-Ion battery. When fully charged, the battery will provide you with up to 40 minutes of work.
The LST136W string trimmer has many features that improve its versatility. One such feature is the PowerComand Dial. It allows you to toggle between optimum runtime at 6500RPM and optimum power at 8500RPM. The trimmer is cordless so you will not have to deal with limiting cables. The cordless design combined with the convenience of lightweight make the trimmer user-friendly.
Several other features impressed us. These include an automatic pool feeder and ability to convert the tool from a weed eater to an edger. The automatic spool feeder ensures continuous work without bumping. Some people have a problem with the auto-feed system. But the technology makes trimming easier. The convertibility feature allows you to convert the weed eater to an edger. All you need to do is turn the shaft. For sure, the BLACK+DECKER LST136W 40V String Trimmer will impress you too.
Things to Consider Before Buying a Commercial Weed Eater
Best trimmers should make your work easier. They should be able to stand the test of time even with heavy use. Each brand is in business and therefore they will promote their products using the best descriptions. This might be confusing to many people. Here are the most vital factors to consider before making the important decision.
​Weed Eater Types
You have three options based on the power supply. These include gas, corded electric and battery-powered trimmers. The corded and electric powered weed eaters may not provide adequate power for use in huge gardens. This leaves us with gas-powered trimmers. They may be noisy, weighty and environmentally unfriendly but they deliver enough power to demolish thick and stubborn weeds.
Gas engines come in two varieties – 2-stroke and 4-stroke. The 2-stroke commercial weed eaters offer more power and run on combustion gas and oil. However, they are noisy and may produce polluting smoke. The 4-stroke weed trimmers give less power but are still capable of undertaking bigger commercial projects. They are better choices because of low noise and less emission.
Harness
A good weed eater should come with a harness. Even if it does not have one, it should feature fixing points where you can attach a harness. If present, the harness should be as strong and as comfortable as possible. In case you have to buy one, you have two options: buy a purpose made a harness for your brand or an aftermarket option. The purpose made harnesses are costly and high quality. However, you can still find aftermarket harness that is highly affordable but still great in quality.
Shaft Options
Commercial weed eaters come in two varieties based on the shaft. They include curved and straight shafts. The curved variety has a good feel and is comfortable to use for extended periods. They are also lightweight. The straight varieties, on the other hand, give more precision and flexibility of use but they are less comfortable. The straight weed trimmer makes it easier to go around objects and get under bushes. The straight shaft will put more distance between you and the point at which debris flicks up.
The Starting Line
Most gas powered weed eaters feature a starting line. It is possibly most annoying and frustrating aspect of gas engines whether 2-stroke or 4-stroke. Have you been in a situation where you crank the shock but the engine won't just start? A good way to go around this is to look for the best commercial weed trimmers with a loaded mechanism or sequential start.
A sequential start defines a series of actions you will need to follow in order to start the weed eater. This means you will have to prime and set the choke and then follow a series of two or more steps. There are a few other options, which can provide you with easier and gentler starting than a line. Choose what works for you.
Head Choices
Which head option do you prefer? A bump feed or a fixed-line system? Some people would prefer a bump feed trimmer. With this, you will have to bump the head off the ground to feed more line. As such, the system offers you more control over the line. It is a very simple method to use. The problem is that the spool is prone to damage and the spring worn down over repeated use.
Fixed lines on the other hand use lengths of lines that are already threaded into your trimmer. This type is a popular option for the commercial weed eater. They can use thicker, more durable string compared to bump-feed systems. The only problem is that you will be forced to stop to replace the line each time, which might be cumbersome.
The Cutting Path
It would be great to consider the cutting path. Most regular weed trimmers usually have too small a cutting path to work well on large gardens. If you are looking for the best commercial trimmer then you should base your choice on 17-inch cutting path as your minimum. The size of the cutting path of a weed eater is directly proportional to ease of use and inversely proportional to time and effort.
---
Top 5 Best Commercial Weed Eater Reviews
---
Unlock the convenience and the power of a cordless weed eater by purchasing the BLACK+DECKER LST136W 40V String Trimmer. It features a straight/telescoping shaft, which is convenient to use gives you good coverage. Its Lithium-ion battery charges in less than an hour and provides you with up to 40 minutes of action. It features a PowerCommand Dial, which allows you to choose between maximum power at 8500RPM and maximum runtime at 6500RPM.
The LST136WString Trimmer is lightweight. It is much lighter than even the lightest gasoline-powered commercial weed eaters but it provides comparable performance. Compared to other Cordless trimmers currently in the market, this model from BLACK+DECKER is perhaps the best you can ever find. Consider the following pros and cons.
Cordless, lightweight and therefore simple to operate
Flexibility to choose between Max runtime and Max power
An automatic spool feed ensure continuous work without bumping
Versatility provided by ability to convert from weed eater to edger with quick turn of the shaft
The LST136W delivers faster job
Reliance on the battery might be difficult especially with large areas. Using a spare battery solves the problem.
The auto-feed mechanism is great but it may prove cumbersome to use with certain units.
It's thin (0.065) line may be an issue but it is thicker than most other competitive brands.
Another great option for you would be the 128LD 17-Inch from Husqvarna. This commercial weed eater features a dependable 28cc, 2-stroke engine capable of delivering great performance. An air purge features remove air from the carburetor and fuel system making it easy to start the engine. This complements the Smart Start Recoil Starter with quick start with the least effort.
The engine features an Auto Return Stop Switch, which automatically resets to the ON position for easier starting. It's straight shaft design allows for easy trimming under shrubs and low bushes. This weed eater is attachment compatible allowing for optional attachments so you can turn your tool into a blower, cultivator, edger and more. This versatility is perhaps a formidable reason to choose this weed eater.
The 2-stroke engine provides great power for efficient trimming
17-inch cutting width for larger coverage
Uses 0.095" string which is thicker than that of most competitive brands
It is attachment capable, 2-cycle unit for additional versatility
Detachable straight shaft for impressive ergonomics and effortless transport
The placement of the choke switch leads to accidental turn off
Quite heavy compared to cordless models
Edger attachment is available but the motor is not strong enough to run it well
Dewalt is the king of power tools and it is only natural to associate them with great products including the DCST920P1 20V MAX 5.0 Ah Lithium-Ion String Trimmer. Lithium Ion battery powered weed eater boasts of a brushless motor, which maximized motor efficiency and durability. It is fitted Dual 0.080-inch line with bump feed and 13-inch cutting path for faster action. It is equipped with 20V MAX 0.5Ah Lithium-Ion battery along with a quick charger.
Compact and lightweight design
Requires very less maintenance
Powerful motor to help you power through tough overgrowth
Delivers power without fumes
Starts easily and readily with the pull of the trigger
The motor has the tendency to stay in low gear
Vibrates on both low and high speed
Battery power may not have enough runtime for large jobs
If you do not like battery powered weed eaters, then you might find the Husqvarna 967055801 a good choice. Its 4-stroke, gas powered engine is capable of trimming thick and hard weeds in no time. It includes a SmartStart feature, which allows the trimmer to start quickly and easily. To fit your height, this trimmer features an adjustable handle that is easy to modify. The Husqvarna 967055801 features an Air purge setting, which removes air from the carburetor and fuel system that contributes to ease of starting.
Designed to work with any string size
It works well for edging lawns
Has complete line of repair parts available
Starts quickly thanks to SmartStart technology
Runs on gas which makes it powerful
Quite heavy to carry
Requires frequent change of oil
Might be quite noisy because of the gas engine
Another great option for the commercial weed eater is the 21272 5.5-Amp 15-In Corded String Trimmer from GreenWorks. It is fitted with a powerful 4-Amp motor, which delivers enough power to trim all manner of weeds leaving your compound looking its best. The trimmer is equipped with a telescopic shaft that lets you adjust or manipulate the length to fit your height.
Like the BLACK+DECKER weed eater reviewed above, it features an automatic weed trimming feed system and the rotary shaft which makes it effortless to transform the tool to an edger. The string trimmer is designed to use a 0.065 dual spring. You can buy a spare pool (GreenWorks model number 29082) from various local garden centers. It offers 13" cut path, which is great for residential gardening and landscaping.
It is quite affordable compared to competitive models
The adjustable telescopic shaft is effortless to use and covers wider areas
It is extremely lightweight for convenience and ease of use
Convenient electric start
Operates with less noise and vibration
The automatic feed system may not works very well
There is no side wheel for edging
Numerous questions about durability especially with repeated use
We believe you are now well informed and ready to take on the important step of buying the best string trimmer. From our viewpoint, the BLACK+DECKER LST136W 40Volts MAX Lithium Ion String Trimmer, 13" is the best, especially if you are looking for a cordless weed trimmer. It has some great features that set it apart from its competition. This does not mean the rest of the reviewed are not great enough to buy. They somehow have common features but a few are unique enough to make each different.
In case you do not find what you need in our review then you can use the buyer's guide provided to guide your search. Do enough research, taking into account the prices vis-à-vis the performance features to ensure you buy the most affordable yet greatly performing brand and model. A commercial weed trimmer offers you the best way for lawn maintenance and landscaping. Get yours today if you want to improve your living environment. If you are still not sure then you can consult a neighbor who has one to provide you with further guidance before you make an important choice.