What Are The Best Commercial Weed Eaters?
Commercial weed eaters are essential tools in the arsenal of a landscaper, but they can also benefit the homeowner who has to care for a large lawn. The main difference between these string trimmers and the residential type is power.
Commercial weed whackers are more powerful and typically have a wider cutting swath. They come in various styles, including gas-powered or electric.
Deciding which one to buy can be overwhelming, especially if you're not an expert. To help you out, we roamed the market and found the best commercial weed eaters out there. Check out their detailed reviews below.
Things to Consider Before Buying a Commercial Weed Eater
Weeds can sometimes take a toll on lawns, and you have to get rid of them as soon as they sprout. Modern weed eaters give you the versatility you need to reach even those tough corners that are hard to reach. However, investing in a poor quality weed eater can do more harm than good. So, here are a few things to weigh in before buying, to make sure you have the best weed eater out there.
Weed Eater Types
Commercial weed eaters come in three main types, gas-powered, electric, or cordless. Each type has its own benefits and downsides, and picking one over the other is often a matter of preference.
Corded weed eaters: The electrically powered weed eaters are handy and lightweight. However, the power cord will limit you, which requires you to measure the distance from the closer outlet to where you want to work. This can be a challenge especially when you are maintaining big lawns.

Cordless weed eaters: The battery-powered type offers you better mobility as compared to the electric type. Similar to electric weed eaters, battery-operated models are lightweight and quiet. Their portability is another plus feature which makes them highly popular.

Gas-powered weed eaters: Gas trimmers are a great choice for demanding jobs. Though they may be noisy and weighty, they deliver enough power to demolish thick and stubborn weeds. One thing that is worth noting is that these trimmers have two varieties. You can pick from 2-stroke and 4-stroke models. The 2-stroke weed eaters offer more power and run on combustion gas and oil. However, they are noisy and produce more polluting waste fumes. The 4-stroke weed trimmers give less power but are still capable of undertaking bigger commercial projects. They are a better choice because of the low noise and lower emissions.
Harness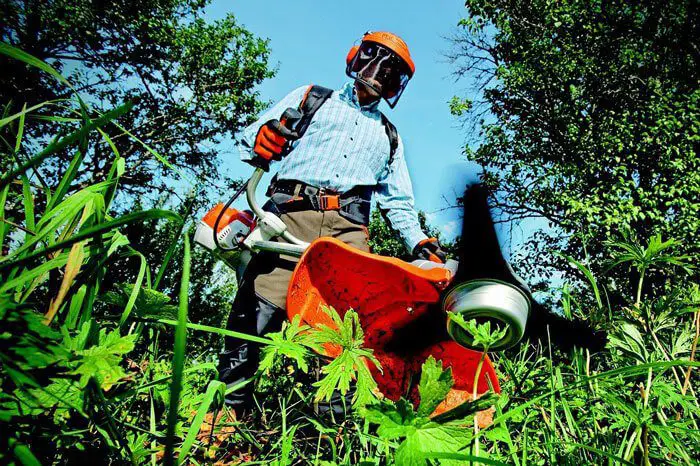 A good weed eater should come with a harness. Even if it does not have one, it should feature fixing points where you can attach it. If present, the harness should be as strong and as comfortable as possible.
In case you have to buy one, you have two options. You could buy a purpose made a harness for your brand or an aftermarket option. The purpose-made harnesses are costly but high quality. However, you can still find highly comfortable aftermarket models that are affordable and still great in quality.
Weight
Most people overlook weight when buying weed eaters. Investing in a heavy weed eater, however, will impact your mobility and transportation ease. Worse still, using a heavy weed eater to maintain your lawn will drain you faster and reduce your productivity. Regardless of whether you are a homeowner or a commercial landscaper, it is crucial to buy a weed eater that you can manage working and moving around your land.
Shaft design
Commercial weed eaters can have either a straight or curved shaft. A straight shaft is good in that it allows you to reach out to those hard to reach edges of your lawn. If durability is what you are looking for, then straight shafts are the best way to go. People with back problems can also take advantage of weed eaters with straight shafts.
Curved shafts, on the other hand, are comfy, and offer you better control over the device, making them a great pick for demanding projects. However, people suffering from back pain may encounter challenges using them. Though the curved shafts are lightweight, they are not flexible and may break.
Noise and vibration levels
Modern weed eaters are designed using the latest technology to minimize noise and vibration levels when on use. High noise levels and vibrations can reduce your productivity, and may also produce irreversible hearing damage if used for too long.  Consider investing in a quiet model with anti-vibration features.
Powering options
If you decided to go for a gas-powered weed eater, how it starts really matters. Those with recoil start – aka starting line – could be annoying and frustrating, especially in colder weather when the engine won't start. A good way to go around this is to look for the best commercial string trimmers with a loaded mechanism or sequential start.
A sequential start defines a series of actions you will need to follow in order to start the weed eater. This means you will have to prime and set the choke and then follow a series of two or more steps. There are a few other options, which can provide you with easier and gentler starting than a line.
You can also pick a machine with an electric start; however, this option will have a high impact on the unit's price.
Head Choices
Weed trimmers have two different head types; bump feed or a fixed-line system. Some people would prefer a bump feed trimmer. With this, you will have to bump the head off the ground to feed more line. As such, the system offers you more control over the line. It is a very simple method to use, but the spool is prone to damage, and the spring will be worn down over repeated use.
Fixed lines, on the other hand, use lengths of lines that are already threaded into your trimmer. This type is a popular option for commercial string trimmers. They can use thicker, more durable string compared to bump-feed systems. The only problem is that you will be forced to stop to replace the line each time you run out of it, which might be cumbersome.
The Cutting Path
Another thing to consider is the cutting path. Most regular weed trimmers usually have a too-small cutting path to work well on large gardens. If you are looking for the best weed wackers, then you should pick one with a larger swath that allows you to finish work faster. Note that the size of the cutting path of a weed eater is directly proportional to ease of use and inversely proportional to time and effort.
With that in mind, let's now see which are the best commercial weed eaters you can get your hands on.
Top 5 Best Weed Eater Reviews
1. BLACK+DECKER LST140C String Trimmer
Unlock the convenience and the power of a cordless weed eater by purchasing the BLACK+DECKER LST140C compatible with both 36V and 40 MAX lithium batteries. This battery-powered weed trimmer boasts of a variable speed which allows you to choose between max power or max running time.  Regardless of which type of battery you pick, it charges in less than an hour and provides you with up to 40 minutes of action.
The LST140C is also lightweight and easily maneuverable. A great feature that gives you better control over the device while minimizing your fatigue level. Thanks to its automatic feed spool, you won't even have to worry about bumping, and you'll have the power to get rid of even the most stubborn weeds.
With just a push of a button, you can easily convert your trimmer into an edger. Compared to other cordless trimmers currently on the market, this model from BLACK+DECKER is perhaps the best you can get.
Pros
Easy to maneuver

Delivers great power to get the job done

Lightweight

Can easily be transformed from a trimmer into an edger

13-inch cutting swath

Long-lasting battery power
Cons
The battery is not included

The auto-feed mechanism is great, but it may prove cumbersome to use
2. Husqvarna 128LD String Trimmer
This 17-Inch commercial weed eater from Husqvarna features a dependable 28cc, 2-stroke engine that delivers great power for optimal performance. Whether you are landscaping or doing the final touches on your lawn, this weed trimmer will provide you with the great performance required to get the job done.
This gas-powered trimmer touts of its smart start feature which help you turn on your trimmer without much strain. Transporting the tool has also been simplified, thanks to its detachable shaft. With just a push of a button, you can transform your trimmer into an edge cutter, tree pruner, hedge trimmer, sweeper, bush cutter, creeper or tiller, so you can get a wide range of landscaping tools with a rather modest investment.
The engine features an Auto Return Stop Switch, which resets automatically to the ON position for a hassle-free startup. Its shaft boasts of a straight design which offers fast trimming under shrubs and low bushes. We also like the convenient tap-n-go line release feature and would recommend this trimmer for less demanding projects.
Pros
The 2-stroke engine provides great power for efficient trimming

17-inch cutting width for larger coverage

Uses 0.095" string which is thicker than that of most competitive brands

It is attachment capable, 2-cycle unit for additional versatility

Detachable straight shaft for impressive ergonomics and effortless transport
Cons
The placement of the choke switch may lead to accidental turn off

Heavier compared to cordless models

Edger attachment is available, but the motor is not strong enough to run it well
3. Greenworks 21212 String Trimmer
In case you may be looking for the best electric weed eater then this string trimmer from Greenworks could be a great pick. It is lightweight and can be used either as an edger or trimmer.  Integrated into this device is a powerful 4-Amp motor which delivers enough power to trim all kinds of weeds leaving your lawn or garden looking its best.
This machine is equipped with a telescopic shaft that lets you adjust or manipulate the length to fit your height. Just like the BLACK+DECKER weed eater reviewed above, this trimmer boasts an automatic weed trimming feed system and rotary shaft which makes it effortless to transform the tool into an edger.
The string trimmer is designed to use a 0.065 dual-line. and comes either as a spare tool or complete with the line. The trimmer provides a 13-inch cutting path, which is great for residential gardening and landscaping.
Pros
Affordable compared to competitive models

The adjustable telescopic shaft is effortless to use and covers wide areas

It is extremely lightweight for convenience and ease of use

Convenient electric start

Operates with less noise and vibration
Cons
The automatic feed system may not work very well

There is no side wheel for edging
4. DEWALT DCST920P1 Brushless String Trimmer
For years now, Dewalt has put a smile on its consumers by producing superior quality products that meet the industry standards; and this trimmer is not an exception. The DCST920P1 is a battery-powered string trimmer that boasts a brushless motor which helps maximize motor efficiency and  boosts overall durability.  Fitted to this trimmer is a dual 0.080-inch line with bump feed and 13-inch cutting path for faster action.
With this tool, you do not need to strain to get the job done. thanks to its patented gear drive which has been designed to deliver torque required without overload. The trimmer also boasts a variable speed trigger which allows you to control your working speeds according to the task.
Through its auxiliary handle, this string trimmer from DEWALT allows you to have better control and improve your comfort, especially when managing bigger projects. That's not all; a 20V MAX 0.5Ah lithium-ion battery along with a quick charger is included in the package, allowing you to get your job started right away.
Pros
Compact and lightweight design

Requires less maintenance

Powerful motor to help you power through the tough overgrowth

Eco-friendly

Easy to use

Built to last

Variable speed trigger for switching your working speeds

Battery included
Cons
The motor has the tendency to stay in low gear

Vibrates on both low and high speed

Battery power may not have enough runtime for large jobs
5. ​Remington RM1159 Walk-Behind String Trimmer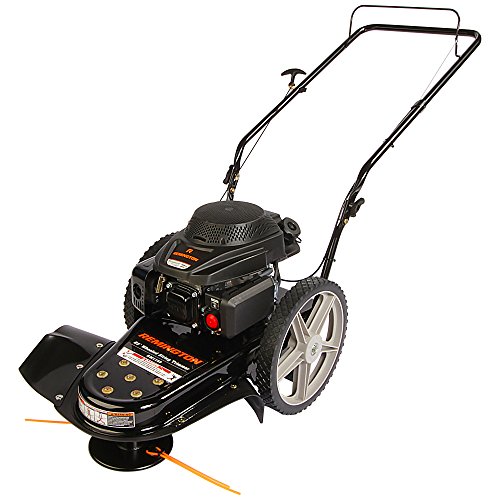 In a world where string trimmers are designed as handheld tools, the Remington RM1159 comes as a breath of fresh air, especially for professional landscapers and impaired homeowners.
This walk-behind string trimmer looks more like a lawn mower and is a great choice when you have to take care of a big terrain. A 4-cycle 159cc OHV gas engine pumps juice into its veins, helping you get rid of tough and tall grass and weeds.
A user-friendly off-set trimmer head helps you trim in all hard-to-reach places, while the convenient 14-inch ball-bearing wheels help you move through rough terrain easily.
The unit has a large 22-inch cutting swath and unique shape that makes trimming around obstacles incredibly easy.
Furthermore, we like the convenient folding handle that makes it easy to transport and store. Equipped with standard 0.155-inch diameter line, this string trimmer is a great choice for a job well done.
Pros
Convenient walk-behind model

Easy to maneuver even in tight places or around obstacles

Heavy-duty ball-bearing wheels for trimming weeds on all terrains

Foldable handle

Heavy-duty string trimmer line

22-inch cutting swath
Cons
 It is quite noisy considering the big engine

Stability could be improved
Conclusion
We hope you are now well informed and ready to take on the important step of buying the best commercial weed eater on the market. From our viewpoint, the BLACK+DECKER String Trimmer is the best, especially if you are looking for a cordless, all-round machine. It has some great features that set it apart from its competition and comes at a price that won't break the bank.
However, the other options on this list are also a great buy.
So, what do you say? Did you find the right weed eater on this list? What are your needs in terms of quality and performance?
Tell me in a comment below; I'd love to hear from you.
And if you liked this article, don't forget to share it with your friends. It might help them find the best string trimmer for them too.
You may also be interested in reading: