L.E.D. Lighting options
What exactly is L.E.D. lighting?
LED stands for light emitting diode. LED lighting products produce light up to 90% more efficiently than incandescent light bulbs. How do they work? An electrical current passes through a microchip, which illuminates the tiny light sources we call LEDs and the result is visible light.
How long does L.E.D. lighting last?
The useful life of LED lighting products is defined differently than that of other light sources, such as incandescent or compact fluorescent lighting (CFL). LEDs typically do not "burn out" or fail. Instead, they experience 'lumen depreciation', wherein the brightness of the LED dims slowly over time. Unlike incandescent bulbs, LED "lifetime" is established on a prediction of when the light output decreases by 30 percent.
How are LEDs Used in Lighting?
LEDs are incorporated into bulbs and fixtures for general lighting applications. Small in size, LEDs provide unique design opportunities. Some LED bulb solutions may physically resemble familiar light bulbs and better match the appearance of traditional light bulbs. Some LED light fixtures may have LEDs built in as a permanent light source. There are also hybrid approaches where a non-traditional "bulb" or replaceable light source format is used and specially designed for a unique fixture. LEDs offer a tremendous opportunity for innovation in lighting form factors and fit a wider breadth of applications than traditional lighting technologies.
LED lighting differs from incandescent and fluorescent in several ways. When designed well, LED lighting is more efficient, versatile, and lasts longer.
LEDs are "directional" light sources, which means they emit light in a specific direction, unlike incandescent and CFL, which emit light and heat in all directions. That means LEDs are able to use light and energy more efficiently in a multitude of applications. However, it also means that sophisticated engineering is needed to produce an LED light bulb that shines light in every direction.
Common LED colors include amber, red, green, and blue. To produce white light, different color LEDs are combined or covered with a phosphor material that converts the color of the light to a familiar "white" light used in homes. Phosphor is a yellowish material that covers some LEDs. Colored LEDs are widely used as signal lights and indicator lights, like the power button on a computer.
In a CFL, an electric current flows between electrodes at each end of a tube containing gases. This reaction produces ultraviolet (UV) light and heat. The UV light is transformed into visible light when it strikes a phosphor coating on the inside of the bulb. Learn more about CFLs.
Incandescent bulbs produce light using electricity to heat a metal filament until it becomes "white" hot or is said to incandesce. As a result, incandescent bulbs release 90% of their energy as heat.
Why should I choose ENERGY STAR certified LED lighting products?
There are more lighting options available today than ever before. Despite that, ENERGY STAR is still the simple choice to save on your utility bills.
LED bulbs that have earned the ENERGY STAR are subject to very specific requirements designed to replicate the experience you are used to with a standard bulb—so they can be used for a wide variety of applications. As the graphic on the right demonstrates, a general purpose LED bulb that does not qualify for the ENERGY STAR may not distribute light everywhere and could prove to be a disappointment if used in a table lamp.
ENERGY STAR means high quality and performance, particularly in the following areas:
Color Quality

5 different requirements for color to ensure quality up front and over time

Light Output

Light output minimums to ensure you get enough light

Light distribution requirements to ensure the light goes where you need it

Guidelines for equivalency claims to take the guess-work out of replacement

Peace of mind

Verified compliance with more than 20 requirements to address performance and labeling

Long-term testing to back up lifetime claims

Testing to stress the products in operating environments similar to how you will use the product in your home

3-year minimum warranty requirement
And as with all ENERGY STAR products, certified LED bulbs are subject to random testing every year to ensure they continue to meet the ENERGY STAR requirements.
For more information on how to select an ENERGY STAR certified bulb for each application in your home, view the ENERGY STAR Light Bulb Purchasing Guide (PDF, 1.49 MB) or use the interactive online Choose a Light tool.
BoostGro LED Grow Light Full Spectrum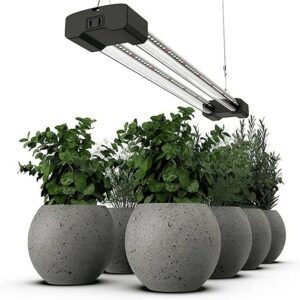 HIGH PERFORMANCE – This full spectrum LED grow light is designed to provide the benefits of natural sunlight your plant needs at different stages of growth. It is enhanced with 12 additional advanced red lamp beads (660 nm) which encourage seed growth, photosynthesis, and flowering or fruit production. It is also cost-effective and generates LOW HEAT!
 EASY INSTALLATION – Our grow light is plug-and-play and able to be LINKED UP to 4 units together (using the 5FT power cord provided) for additional boost. The fixture can be flush mounted or hung with 2FT hanging cables (included in the package). You can use these lights in most indoor areas, such as shelving units, kitchen cabinets, grow tents, garages, basements!
DURABLE DESIGN – This professional Grow Light is FCC-certified and comes with a 1-year limited warranty. It is damp rated for use indoors in humid conditions. The modern design is in a light-weight enclosed housing, which prevents build-up of dust. Rated with a 30,000-hour lifespan. 100% satisfaction guaranteed!
HEALTHY LIVING – Building an indoor garden has never been easier! Grow your own organic lettuce, tomatoes, strawberries, herbs, thyme, rosemary, basil, mint, sage, peppers, perennials, garlic, and much more!
Grow Light with Stand, LBW Dual Heads Full Spectrum Grow Light, 200W LED Plant Lights for Indoor Plants, Auto On/Off Timer, 6 Dimmable Levels, 3 Switch Modes, Adjustable Tripod Stand 15-63 inches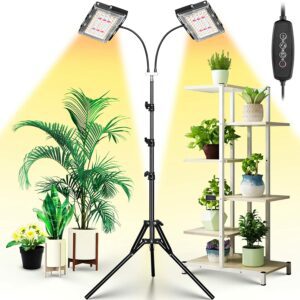 This indoor grow light has a flexible dual head design, and is equipped with a tall & stable tripod stand extendable from 15 inches to 63 inches, which provides a larger illumination area for tall and large plants, and the gooseneck also makes it more flexible to use. You can set the grow light at any height and in any direction to get the desired illumination angle, it's ideal for all kinds of your plants at all growth stages.

Full Spectrum Plant Light: Equipped with 100 high efficiency LEDs (12 Red + 60 Warm White + 28 Cold White), this grow light emits full spectrum light from 380nm up to 800nm, which is professionally designed for indoor houseplants. Similar to the sunlight at noon, this plant light provides high luminous efficacy for more plants, at the same time, saves your electric bill.

Auto on/off Timer Everyday: This growing light has 3 cycle timing settings (3/6/12H) which will stay on for 3/6/12 hours, then off for 21/18/12 hours and will automatically turn on and off at the same time the next day, no need to unplug/re-plug. It will take good care of your plants while you are at work or on vacation, easy & convenient!

3 Lighting Modes & 6 Level Brightness: This LED grow light has 3 switch modes, each light can be controlled individually, you can turn one light on, the other light on, or both on. It also has 6 brightness settings, to meet each plant's lighting requirements at different stages, without worrying about burning your plant.
Giixer 1000W LED Grow Light, Dual Switch & Dual Chips Full Spectrum LED Grow Light
Compare with the traditional 1000 watt grow lamps, this new Dual-Chips 10w led lights is bigger, brighter and efficient, but consuming only 110 watts.
Helps you to save the energy and improve the environment of plant growing. DOUBLE SWITCH- Veg and Bloom button have different function. Veg switch: It's blue led and white led. For seeding or young vegetative growth,you can use Veg switch only. Bloom switch: It's red led and white led.for flowering/blooming,you can use both Veg and Bloom switches.
LED lights are rated at somewhere 50000 hours of use. For comparison, many other grow lights tend to last for around 20,000 hours before needing to be replaced. Protecting diodes are added to make sure one chip out, others still work.
Full spectrum: the light include red,blue,yellow,white,and so on etc. which is similar to the sunshine,ideal for all kinds of indoor plants veg and flower at all growth stages.
Monios-L T8 LED Grow Light with Reflectors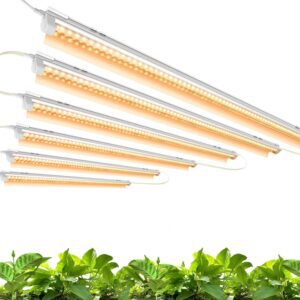 "V-shaped" Reflector Design – Professional T8 grow Light Strip has two rows of high-quality full spectrum LED chips. It has a wider beam angle and higher PAR value than single row grow lights. Perfect for plant seedling, growth, flowering and bear fruit.
Full Spectrum – Monios-L LED grow light Strip is providing indoor plants with full-spectrum sunlight replacement at 400nm-800nm. Up to 42w each light linkable to get more PPFD( photosynthetic photon flux density ), which is effectively promotes the chlorophyll synthesis and photosynthesis.
Efficient Heat Dissipation – Aluminum housing provides the high-efficiency heat dissipation, ensuring a longer service life of the led chips. The 42W double-row led chips with high brightness and low light decay, 2900K color temperature makes it look more comfortable.
Easy Installation – Extendable design, could be connected up to 4 tube lights together with connectors or connection cables. Suitable for various application such as plant shelves, plant tents, hydroponics growing rooms, greenhouses, etc. Excellent choices for commercial growers and home gardeners.
VIPARSPECTRA Latest XS1000 LED Grow Light
LOWER OPERATION COST & HIGHER QUALITY YIELDS:VIPARSPECTRA XS1000 LED grow light adopts the latest high-quality LEDs technology-Samsung LM301B diodes, high energy efficiency LEDs increase yield of crops and save operation cost, generates more usable lighting per watt and provides better light canopy penetration.

OPTIMAL FULL SPECTRUM & FLEXIBLE DIMMIER: Consists of 3000K warm white, 5000K white, 660nm deep red, and 730nm IR light, which providing your plants with excellent full spectrum led grow lights. The red and IR light are particularly useful during bloom, which can speed up bloom time and enhance high yields to obtain the ideal harvest. An added dimmer knob is featured to manipulate the light intensity at liberty, provides desired needs for plants in all stages from veg to bloom.

SILENT OPERATION & SOLID CONSTRUCTION: No fans zero noise. Large areas of solid aluminum heat sinks help you to achieve the ideal cooling system. Adopts high safety performance MEAN WELL driver to achieve high PAR output, longer lifespan to speed up plant's grow processes and boost yields while saving you on your energy bill.

AMPLE COVERAGE & LESS ENERGY CONSUMPTION: Comparable to traditional 250W HPS/MH while consuming only 120W, which helps to get 50% higher yield harvest and save costs. Perfect for 2.5'x2.5' vegetative coverage at 18"and 2'x2'flowering coverage at 14". Remember to properly adjust the height and brightness accordingly to your plants desired level for optimal growth.
Thank you for reading L.E.D. lighting options! Here are some other articles you may enjoy –