Husqvarna 128LD String Trimmer Review
A properly maintained lawn is the pride of many homeowners. One of the most important tools you will need to achieve this is a string trimmer. Not just any string trimmer (also known as commercial weed eater) can really do the job right. You need to pick a high quality, powerful, and performance-oriented trimmer. One model that comes to mind when you talk about commercial weed eaters is the Husqvarna 128LD String Trimmer. As you will learn from this Husqvarna 128LD string trimmer review, this particular string trimmer really has all it takes to deliver exceptional results and then some.
So, what makes the Husqvarna 128LD string trimmer so good? The simple answer is its unique features and specifications. This gas-powered string trimmer is specifically designed to help you with all of your lawn trimming and edging needs. It is the right trimmer to use to cut your overgrown lawn before you can use a lawnmower. It will easily take down the the tall grass that has grown a bit bigger than your mower can handle. Let's look at the main features before discussing a few pros and possible cons of the Husqvarna 128LD string trimmer.
Powerful 28cc Engine
Fitted with a 28cc, 2-stroke engine, this trimmer is optimized for performance. The engine puts out 1 horsepower which is powerful enough to tame bush-like lawn in no time at all. As with most gas-powered trimmers, this model uses 100% gasoline, which you need to mix with oil before use. You can buy premixed gas for your convenience.
The 28cc engine is specially designed for lower fuel consumption and lower emission levels. Unlike most commercial 2-stroke engines, this Husqvarna trimmer is a lot quieter than most other competitor models. But don't go thinking that you won't need any earplugs when using the machine, because you still do! Like all gas-powered trimmers, this unit is much more powerful than corded-electric models and battery powered models although I have to say that battery powered lawn equipment is advancing and worth noting.
Performance-Oriented Design
This tool is fitted with a long, straight shaft, which comes in handy because you will not have to reach out or bend over quite as much. This feature gives the Husqvarna 128LD String Trimmer versatility to perform well in all environments. The straight shaft also makes the Husqvarna 128LD String Trimmer easier to maneuver than many other commercially available trimmers.
The machine features an adjustable handle that lets you make adjustments for comfortable use no matter how tall or short you are. The handle features a soft grip, which makes the tool comfortable and ergonomic to handle allowing you to work for more extended periods without pain or discomfort in your hands. The design offers balance and responsiveness when cutting so you always enjoy the best results.
Manageable Weight
While Husqvarna 128LD String Trimmer may not be the lightest commercial weed eater in the market, it is still a lot lighter than many other competitor models in its class. Designed to weigh just 10.8 pounds, this weed eater is light enough for an average weight adult to operate during the entire length of the trimming job without stopping halfway for rest.
It really won't take long to figure out exactly how to use the machine and use it properly. After that, you will see just how easy it is to control with minimal effort. The Husqvarna 128LD String Trimmer is made of strong and durable materials meaning it will serve you for years without problems requiring expensive repairs or replacements. Besides, it covered with solid manufacturer warranty from a company that stands behind their product.
SMART START feature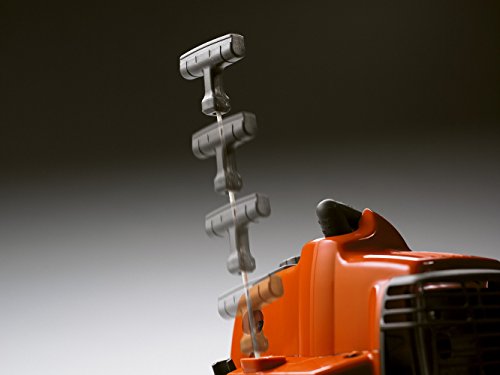 One of the most beautiful features worth mentioning in the Husqvarna 128LD string trimmer is the Smart Start technology. All Husqvarna trimmers are built with this feature. It lets you start the machine with minimal effort and quickly. Unlike other models that need a lot of strength or repeated pulling to start, the Husqvarna 128LD String Trimmer is quite a sharp contrast. The starter will not fail even during the worst environmental conditions.
Large Cutting Width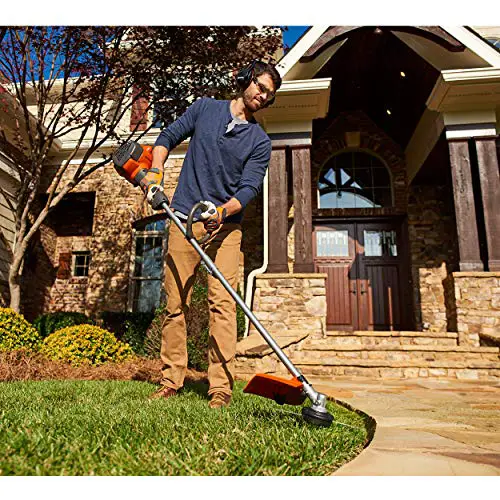 The high performance of this commercial weed eater guaranteed by its 17-inch cutting width, which will allow you to get the job done much faster. In other words, you can trim a significant amount of space is a relatively short time. And everyone knows that time is money so you are literally saving money when you use this! The machine uses .095 diameter trimming line, which is effective in reducing overgrown grass in a flash.
Pros
High performance due to a powerful gas-powered engine.

Large cutting capacity means you will have the work done faster.

One of the most affordable string trimmers on the market given its performance.

Easy to start, operate, and maintain.

Operates much quieter and thus safer for your ears.

It allows for Husqvarna saw pole attachment.
Cons
The 2-stroke engine is not as efficient as 4-stroke engines fitted in some competitor trimmer models

The Smart Starter feature is excellent but not durable as reported by some users
Conclusion
The Husqvarna 128LD String Trimmer buying guide has given you a starting point to help you if you are looking to purchase a high performance, excellent quality, string trimmer for your lawn maintenance. Husqvarna is a very reputable brand so you can trust the Husqvarna 128LD String Trimmer review to be of great quality. Given its performance, the trimmer is one of the most affordable. Take your time and try this product. I have no doubt that you will be happy with your decision. Thank you for reading Husqvarna 128LD String Trimmer Review