15 Best Gardening Tools For Dads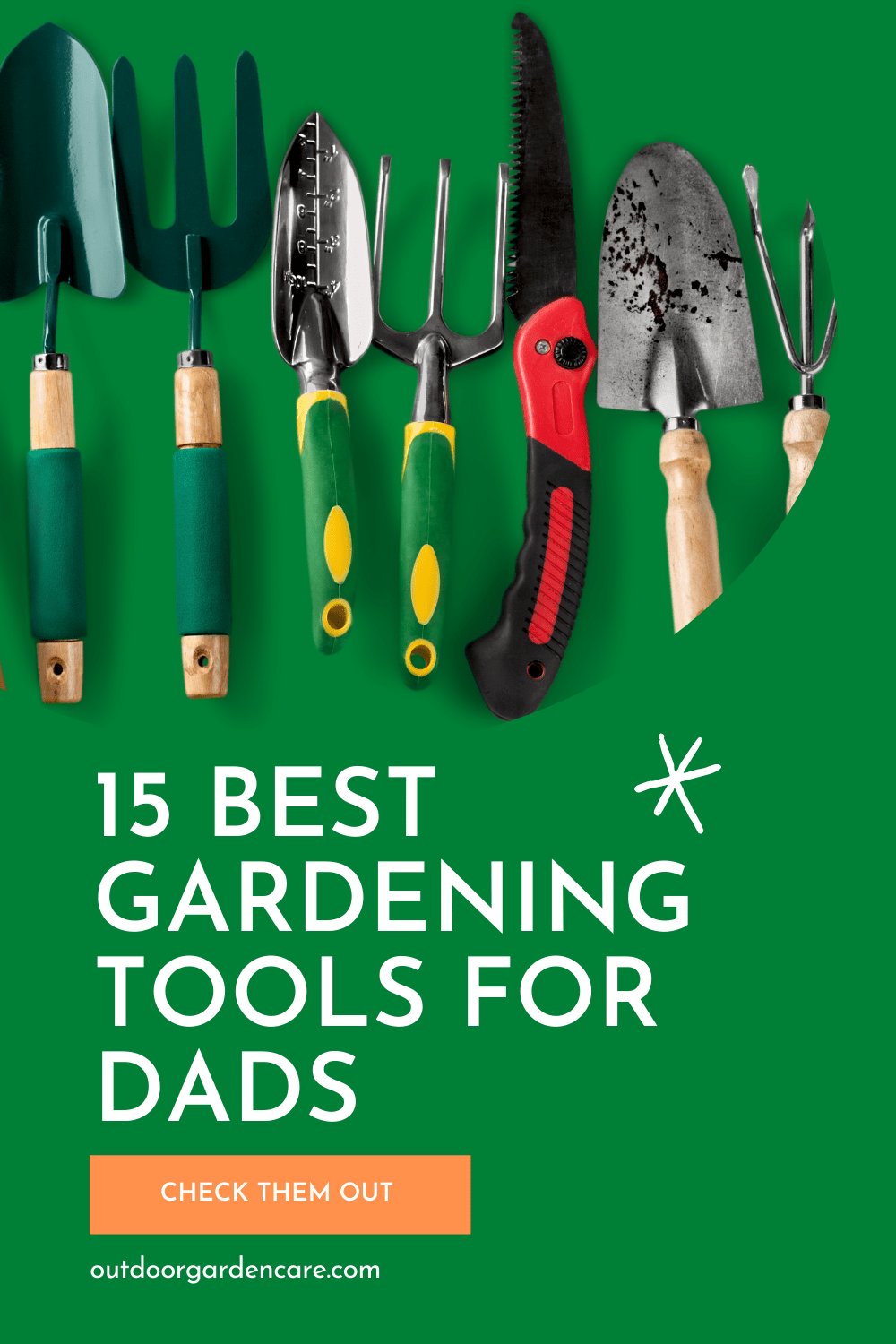 15 Best Gardening Tools For Dads
Is your dad a keen gardener and tour looking to get him something useful as a gift? If so we have you covered in this best gardening tools for dad guide.
We have put together a collection of 15 different items in a variety of price ranges that would likely be a great addition to your dads gardening tool box.
15 Best Gardening Tools For Dads (Gift Guide)
1. Clydes Garden Planner
This is perfect for an organised gardener. Clydes garden planner allows your dad to keep track of all the different times of year to plant vegetables to make sure he's keeping on track. It provides Indoor and outdoor seeding dates for 22 commonly planted garden veggies.
It's perfect to hang up inside or outside his garden shed as it is waterproof and lasts for years. It also comes with a moisture meter so you can check exactly when your plants need watered taking away all the guess work.
2. Digital Hose Timer
A digital hose timer is a perfect gift for your dad. You just attach this little device to your hose, set how long you want it to run for and that's it. It will turn off automatically when the timer runs out.
Your dad can have a perfectly watered garden without all the hard work!
3. Gardening Belt
If your dad is an avid gardener and doesn't have a gardening tool belt you need to get him one. This is a handy bit of kit to help him store all the tools he needs when he's out and about, working in the garden.
4. Indoor/Outdoor Thermometer
An Indoor Outdoor thermometer is a great affordable gift. Your dad will be able to keep track of temperatures inside and out so he knows exactly what way to treat his plants. This one supports three wireless sensors for multiple locations and calculates the weather forecast for the next 8 hours so your dad can keep on top of his garden.
5. Gardening Apron
Similar to the tool belt but it also helps to keep the dirt off your dads clothes! It has multiple compartments of all shapes and sizes for all of his tools. It has adjustable waist straps for all sizes of people and is made of high quality thickened Oxford cloth. It's a great purchase for any green fingered dad.
6. Heavy Duty Yard Cart
This heavy duty yard cart is a great addition to any gardeners collection of tools. It's designed to easily transport heavy items around the garden as well as moving dirt and stones. This particular yard cart comes in with a 1200lbs max load meaning your dad wont have any issues transporting stuff around his garden. It also has an amazing quick-release dump feature making unloading quick and easy.
7. Zero Turn Ride On Mower
If you want to go all out this is every man with a large gardens dream machine. It's a zero turn ride on mower that is sure to get any avid gardener excited. Your dad will have the grass cut in no time with this piece of machinery.
Read More: 20 Most Common Gardening Tools
8. Three Piece Leaf Clean Up Set
This is an amazing three piece kit including a wheel barrow, wavy blade hedge shears and a lawn rake perfect for cleaning up leaves in the Autumn months. It's also a great starter kit for beginner gardeners including some of the handiest tools a gardener can have in his tool kit.
9. Three Piece D Grip Digging Tool Set
This 3 piece set comes with a compact digging shovel, digging fork and a full size digging shovel. They all come with strong wooden handles making them a durable purchase that will stand the test of time. Every gardener has a use for some of these tools at some point during the year. If your dad doesn't have these yet he needs them!
10. Leaf Scoop 
One of the most annoying parts of raking leaves is picking them up. This Leaf scoop from Gardease makes picking up leaves fast and easy. It also helps to protect your dads hands from sharp debris when picking up the leaves.
11. Garden Kneeler Seat
A Garden kneeler seat is a must have for gardeners who are down on their hands and knees all the time. Your dad isn't getting any younger. This seat will help him protect his knees and allow him to work on his plants in comfort.
12. Stand Up Weed Remover Tool
We all know how annoying it is to get down on your hands and knees and pull weeds. This handy tool allows you to easily pull them standing up helping to save your dads hands and knees from injury.
13. Leaf Blower
A leaf blower is a great addition to any dads tool shed. It makes clearing up leaves and grass clippings a breeze with this handy tool. This is a battery operated leaf blower meaning you just have to charge and go making it easy for any dad to use.
14. Container Gardening For Beginners 
If your dad is just getting into gardening this is a great beginners guide to container gardening. It will teach him about all the basics of starting to grow Vegetables, fruits, herbs and edible flowers. He will be able to grow a thriving garden in containers after reading this.
15. Garden Tool Sharpener
A tool sharpener is a great addition to any garden. It's important to keep all your tools such as shears, mower blades etc sharp. This tool helps to keep them in tip top condition.
Wrapping Up
Hopefully this article has helped you find the best gardening tool for your dad. You can be sure he'll be excited no matter what gift on this list he receives.