Best Front Tine Tiller Review
Every homeowner prides in a beautiful garden. However, the process of turning and churning soil using your hands can be daunting and discouraging. Should that stop you from pursuing your goal of growing a healthy and productive garden? Certainly not!
Instead of having to toil with a shovel and spending valuable energy with little success, you can use the best front tine tiller to accomplish the job quickly and with minimal effort. These gardening equipment are incredibly efficient in preparing the ground for planting.
Front-tine tillers are engineered for smashing light soils, removing weeds, sod and maintaining established gardens. Most models are hand-operated making the machines suitable for use in small to medium sized gardens.
We have performed an in-depth analysis of top-rated, famous brands and their models. From the results of our analysis, we have narrowed down to 5 of the finest front tine tillers currently in the market.
We shall provide you with helpful reviews of the five. Later, you shall learn about the factors to consider before you can make your choice.
Top 5 Best Front Tine Tiller Reviews
1. Earthquake Versa Front Tine Tiller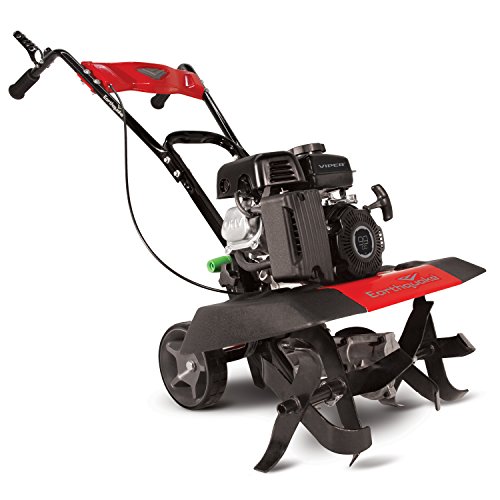 Taking the first rank is the Earthquake 20015 Versa Front Tine Tiller. The machine is well-built and excellent in quality. Its 21-inch tines will break through light soil with ease. Several features and specifications make it an ideal choice for any gardening enthusiasts.
The Earthquake 21-inch front tine tiller presents a compact design that offers excellent maneuverability and balance. It boasts of one of the lowest centers of gravity possible with any front tine tiller. The result is perfect ground-hugging for proper tillage. Although the tiller is a small type, it has the power and performance of the full-size models. This makes tilling straightforward and quick.
The compact design means it can get into tight corners and rows in your garden. This feature is excellent for individuals with smaller gardens with borders that are not straight. No matter how small or improperly situated your garden is; you can be confident your compact tiller will do a good job.
It has 8-inch wheels designed to improve traction and maneuverability in wet and soft soil conditions (as in following torrential rainfall). Another notable aspect of the design is handlebars. These are bicycle-style handlebars featuring 3-position adjustable height (for multi-height users). The handlebars have throttle adjustment to provide better control and support.
A high-quality 99cc Viper Engine powers the Earthquake 20015. The engine is extremely efficient and high performance. Initially made by Chrysler, Viper is a 4-cycle engine that has more torque and is more fuel efficient than 2-cycle engines. It operates less noisily and delivers the right amount of power to till all types of soil.
The engine has a durable cast-aluminum gear driven transmission that needs gas only. This will allow you to get the work done quickly and without any hassles. As you may know, viper engines are durable. Your tiller will serve you for years without requiring an overhaul or replacement.
An annoying thing about gas-powered engines is engine starting. This engine starts very quickly and smoothly via pull recoil.
It affords a single forward speed with an 11-inch tilling depth which chops, slices and turns the soil to create a finely-milled, perfectly-aerated soil. There is depth control with drag stake to perform the function of a pivot point between the tiller's two wheels for a tighter turning during the tilling process.
You do not have to worry if you need a cultivator for an existing garden. The Earthquake 21-Inch Front Tine Tiller allows for tool-less removal of the outer tines and shields rapidly. This action will quickly turn the tiller into a reliable cultivator.
Pros
Excellent maneuverability and ease of use

Quiet and convenient with smooth-pull recoil for effortless ignition

Lower center of gravity for premium stability

Adjustable handlebars allow for use by different people

Powerful engine till and cultivates all types of soil quickly and easily
Cons
May not be suitable for virgin ground with lots of sod and compact soil

It is not cool that you must remove part of the handle to remove the shields

It would be excellent if the handles were a little bit longer (for taller users)
2. YARDMAX Compact Front Tine Tiller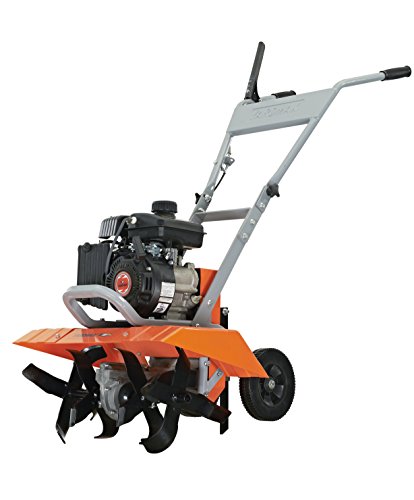 YARDMAX is a relatively new brand specializing in making outdoor equipment. The brand is quickly gaining momentum as a favorite of many outdoor enthusiasts as well as contractors. One of their best machines is the YARDMAX YT5328 Compact Front Tine Tiller. It boasts of some beautiful features and specifications.
Compactly designed but powerful in performance, the YT5328 front rototiller is perfect for tilling small to medium sized gardens. It can easily fit between garden rows. It features a single piece solid stamped shield made of high-quality steel. The piece is studded with punched slots for additional durability.
Similar to the Earthquake model we reviewed earlier, the YARDMAX compact rototiller has a low center of gravity. This results in a better ground-hugging ability for better soil breaking. The low center of gravity also boosts balance and improves maneuverability making your work much easy.
The tiller is fitted with oversized 8-inch wheels to improve maneuverability in different terrains and traction in soft soil conditions. The wheels, compact and lightweight design along with self-propelled front tines makes the tiller easy to operate even by younger or elderly users.
YT5328 uses a powerful YARDMAX engine with sturdy ball bearing gear drive transmission to provide you with long lasting service. The 79.77cc 4-cycle engine operates smoothly and quietly. It is also fuel efficient and eco-friendly. The engine offers 180 rotations per minute. Such rotational speed is fast making it possible for you to finish your work with speed.
The machine provides a variable tilling width of 11 inches, 16 inches, and 21 inches. Tilling depth, on the other hand, is adjustable from 7 inches to 11 inches. The result is proper, intense and compact cultivation. The tiller also features depth control with a drag stake for easier soil turning and smooth till.
Another feature you will like is the user-friendly controls. The aim is to make it cinch for any gardener or homeowner to operate. It features easy-to-operate, 3-position, height-adjustable handlebars for smooth and effortless control of the tiller. Just remove the outer tines to let you till tight and narrow spaces with ease.
Pros
Compact yet powerful front tine tiller

Durable, rust-resistant construction

Smooth, silent and fuel efficient YARDMAX engine

Fast rotational speed ensures tilling is done quickly

Proper, intense and compact tillage

User-friendly controls provide straightforward operation
Cons
Not suitable for larger gardens and more complex tasks

Some users complain of not receiving specific necessary components
3. Southland Front Tine Tiller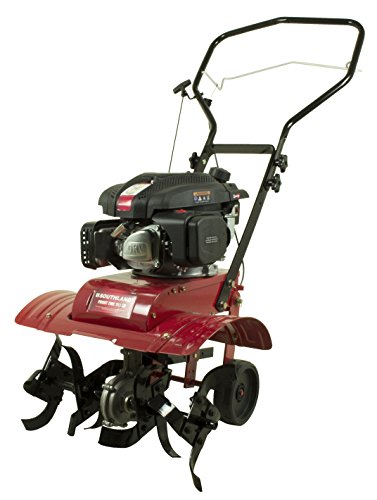 The Southland Brand is one of the most famous brands when it comes to outdoor power equipment. Their front tine tillers are among the most preferred by gardeners and homeowners. The Southland SFTT142 Front Tine Tiller is an excellent choice if you are looking for a powerful yet compact machine for garden cultivation.
Like most outdoor power equipment, this front rototiller comes in black and red color. To provide the machine's users with additional flexibility, it comes with adjustable tilling width. The width is adjustable to three different positions: 11 inches, 16 inches, and 21 inches.
The tilling depth (or diameter) stands at 11 inches which is deep enough for intense and compact tilling. Some people may have issues with lack of depth adjustability. But at 11-inches, you can be sure it will dig deep enough and turn soil into a smooth till.
The unit comes with four super sharp tines made from strong and durable metal. Incredibly, the tines will remain sharp all through the life of the machine because they are capable of self-sharpening. Very few front tine tillers are able to self-sharpen. Imagine how daunting and time-wasting it would be to sharpen the tines with a file.
When it comes to the engine, Southland SFTT142 rototiller features a single-speed 4-cycle gasoline engine with a capacity of 150cc. The 4.2 horsepower engine is well-made and sturdy for long time use. The machine uses a gear drive system with a Poly-V belt system for even longer life. The engine is eco-friendly as proved by EPA and CARB certification.
To improve maneuverability, the tiller is fitted with 6.5-inch rear tires. The tires enhance movement on all types of soil even in wet conditions. Another unusual feature is the swing tail with a drag stake system. This feature will help you to change from till mode to transport mode quickly and easily.
The compact design of this southland tiller means you can store it in compact spaces. To make it even more space saving, the unit features a foldable handle. It will please you to learn that every purchase of the Southland Outdoor Power Equipment SFTT142 front tine tiller earns you a 2-year warranty on parts.
Pros
Powerful yet compact front tine tiller

Manual pull-recoil for easy ignition

Adjustable tilling width with a depth of 11 inches

Durable and rust-resilient construction

Handles fold for easy storage and portability

Backed by Southland's 2-year warranty
Cons
Some units have gas leakage during operation (risk of fire)

At 4.2 horsepower, the engine may not perform well on dry, hard and compacted soil
4. Champion Front Tine Tiller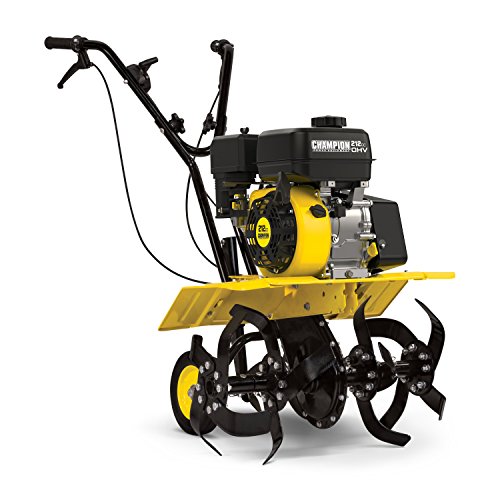 Champion is another favorite brand that has managed to establish a niche in the outdoor power equipment industry. The Champion 2-Inch Dual Rotating Front Tine tiller qualifies as one of the best rototiller currently in the market. It comes in a vibrant yellow color that makes it unique.
It boasts of a durable, long-lasting construction and performance. Its tines are reliable, robust and sharp. Like other high-quality tine tillers, the tines of this great tiller are self-sharpening. The tines can break, turn and churn soil into a perfect till for planting.
The machine is incredibly efficient. This is attributed to a variable tilling depth of 16 inches to 22 inches. A tilling depth of 8 inches that is not adjustable may not be as deep as that of other rototillers in this review. However, such depth is still suitable for preparing sizable vegetable and flower beds. You can even use it to weed between rows.
Convenience is one of the features that set rototillers apart. This model from Champion features 8-inch storage wheels that also help with maneuverability. The wheels make it easy to transport the machine to and from your garden. In addition to transport and maneuverability, the large sized wheels boost balance.
This versatile machine features four 13.8-inch tines made of heavy-duty hardened steel. Dual rotation of these tines makes it cinch to till narrow spaces or broad arrows. The tines are driven by a powerful 212cc 4-cycle, a gas-powered engine that can tear through even the toughest ground and transform it into an excellent planting soil.
To give you confidence, the tiller comes with Champion's 2-year limited warranty consisting of lifetime technical support from experienced and experts. You should have peace of mind because EPA and CARB certifications guarantee your safety.
Pros
Powerful and efficient front tine tiller

Convenient due to superior balance and maneuverability

Easy, fast and smooth tilling

Versatile machine tills narrow spaces or wide rows

Backed by Champion's 2-year lifetime limited warranty
Cons
Quite costly compared to other models of similar quality

8-inch fixed tilling depth may be limiting
5. Cub Cadet Front Tine Tiller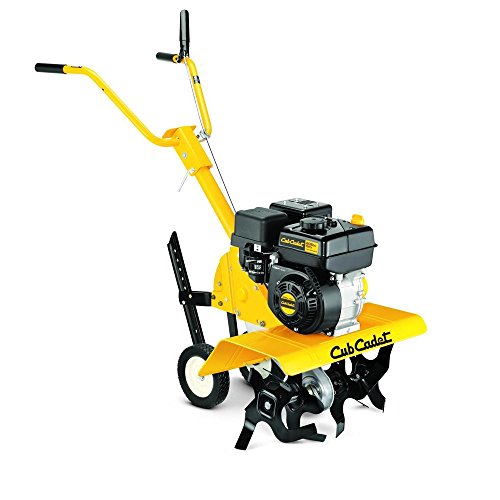 Cub Cadet has set out to offer stiff competition with the most popular brands by designing and building premium-quality outdoor power tools. One such device that's worth mentioning is the Cub Cadet 24-inch Front Tine Tiller. It is widest forward rotating tiller in our front tine tiller reviews.
The machine is fitted with a big 208cc 4-stroke engine that powers the tines that can dig up to 8 inches deep. It is important to mention that the tilling depth is adjustable from 4 inches to 8 inches. The tilling width adjusts from 16 inches to 24-inches. With such widths, you can be sure the task of cultivating your garden will be fast and reliable.
Most Cub Cadet tools feature the yellow color trademark of the brand. But, other styles may also exist to provide you with flexible choices. Funnily, all the moving parts and electric cables are exposed. This may not be cool especially if you curious children around. Such necked design does not interfere with the performance of your tiller in any way.
The manufacturer offers a 3-year warranty on tillers which is among the industry's best. This fact should give you an idea of the kind of product you are dealing with. This tiller feature stamped steel construction for durability and long-lasting performance.
The drive, on the other hand, is cast-iron with bronze gears. The shied features serrations for extra protection. Club Cadet uses a top-notch motor from Briggs & Stratton that deliver superior performance in all soil conditions.
This forward-rotating tiller is a little heavier than others in its category. However, the manufacturer has added several features to make sure the equipment is portable and easy to maneuver. Among those features are 8-inch pneumatic wheels that provide excellent traction and adjustable tines.
Pros
Great and powerful front tine tiller

Durable stamped-steel construction

Backed by Club Cadet's 3-year limited warranty

Good balance, portability, and maneuverability

Large adjustable tilling width and depth
Cons
A heavy machine that may prove challenging to control

An expensive but excellent quality product
How to Pick a Front Tine Tiller for Your Garden 
Our list contains only 5 of the models we deem the best based on the analysis we conducted. Each of these machines we have picked has some unique features that set them apart from their completion. But, we also respect the preferences of our audiences. So, we have included an in-depth buying guide to lead you into making your independent choice.
A few factors are worth considering if you must get the right front tine tiller for your garden. If you consider these factors in unison, the chances are that you'll find what you've been looking for.
Engine
Power tools use either 2-stroke or 4-stroke engines. 2-stroke engines are more powerful than their 4-cycle counterparts. However, they operate noisily, polluting and are not fuel efficient. You will also have to mix fuel and oil in the right proportion each time you refill; something that is inconveniencing.
The 4-cycle engines, on the other hand, may not be as powerful but are extremely fuel efficient, quiet and eco-friendly. Furthermore, you do not need to mix oil and fuel. Thus the efficiency and convenience of the latter type of engines make them prime choices for front tine tillers.
Regardless of the engine type you choose, it should have enough power to break compacted soil and softer soils. The engine capacities range for just less than 100cc to more than 208cc. The larger capacity engines are heavier but are more powerful than smaller capacity models.
Tines
The central focus in rototillers is their tines. The most important advantage of front tine tillers is the ability to adjust the tilling width. Most models allow three tine width settings. This will enable you to till spaces of various sizes, from narrow strips between growing plants to rows as wide as two feet apart.
These tines are forward-rotating meaning they turn in the same direction as the wheels. Forward-rotating tines are also called standard-rotating tines. The problem with this type of tines is their inability to dig too deeply. This means the machines cannot dig too deeply. However, they are great in soil aeration and shallow weeding.
Features to look out for in tines are the material used for making the parts and sharpness. Dull or blunt tines will not be able to turn and churn soil. We would recommend you go for a model with self-sharpening tines if you can afford. Such technology will eliminate a lot of problems associated with maintenance.
Portability (Maneuverability)
Front rototillers generally weight between 100 and 160 pounds. Does that weight strike you as easily maneuverable? Maybe not, but most models feature large wheels (some pneumatic) to help them push through soft and loose soil types. The large wheels make it effortless to push the machine on the driveways or the walkways to and from your garden.
High-quality models may additionally feature fold-able handlebars to make transportation and storage into tighter spaces in shades and garages. Many brands also try to build their tillers with lower centers of gravity to further improve balance and maneuverability.
Drag Stake (Bar)
A drag stake is an inconsistent feature of front tine tillers. You will do well to choose one that features an adjustable drag bar. As the name sounds, the bar or stake drags behind to slow it down. The part functions to hand the tines extra time till the soil and turn and churn it more thoroughly.
Since the drag bar in adjustable, you can set it to your desired depth depending on the job at hand. The tiller will turn and churn the soil at that consistent depth. Achieving such consistency would be almost impossible without a drag stake.
Cost
The last be not least feature you need to consider in choosing the appropriate front tine tiller for your garden is the cost. The budget you create is up to you. However, you need to keep in mind that you will get what you pay for.
Expensive does not always correspond to high-quality and cheap does not always mean low quality. Some brands are expensive ostensibly because of their market share. With research, you can find a newer brand that offers excellent quality products at affordable prices.
FURTHER READING
Final Verdict 
You can't go wrong if you use our in-depth and helpful best front tine tiller reviews and buying guide. This machine offers you the best way to prepare your garden correctly and adequately for successful planting. The five models we have listed are some of the most innovative, powerful, durable, easy-use and rugged in the market. They are also genuine and purpose-built. Each of them would give good value for your money if you were to buy it.
Thank you for your time. We can only wish you have a pleasant and successful shopping experience.