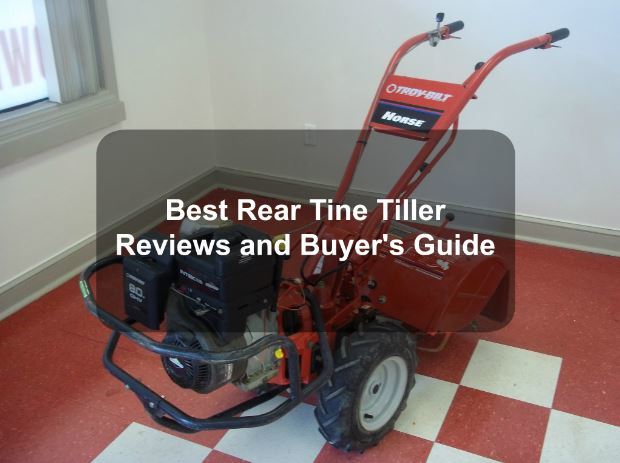 Best Rear Tine Tiller Reviews of 2019 – A Complete Buying Guide
---
Rear Tine Tiller is the garden tool for tilling a large area with rough, compact ground. It differs slightly in design from the more common garden tiller (or front tiller). A front tiller has blades in front of the engine and machine driving it. A rear tine tiller, on the other hand, has the blade at the back of the machine and engine.
Since the engine pulls the tines, rear tine tillers can dig much more in-depth. Serious gardeners now choose to prepare their large, compact gardens with rear tine tillers. I assume you are here because you are looking for the best rear tine tiller for your gardening needs. Today, the many brands are producing various quality tillers. It makes increasingly challenging to arrive at the right choice.
This review aims at providing you with helpful information to get a rear tine tiller to meet your needs. We took into consideration a number of parameters to arrive at our best pick. You will learn of those parameters later on. For now, please check out our top 5 best tine tiller reviews.
| | | | |
| --- | --- | --- | --- |
| | Southland SRTT196E Rear Tine Tiller | | |
| | Poulan Pro LCT 208cc Rear Tine Tiller | | |
| | Husqvarna CRT900L 960930026 17-Inch Rear Tine Tiller | | |
| | Champion 19-Inch Dual Rotating Rear Tine Tiller | | |
| | Husqvarna 14-inch Counter Rotation Rear Tine Tiller | | |
Top 5 Rear Tine Tiller Reviews
1. Southland SRTT196E Rear Tine Tiller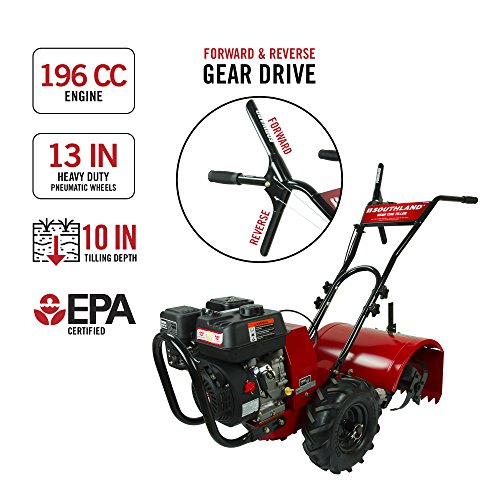 The SRTT196 Rear Tine tiller from Southland is one of the best in the market. The tiller equipped with a powerful gas-powered engine. It is a 196cc 4-cycle, 9.6 foot-pound OHV engine that pulverizes any soil type it contacts. The engine pulls 11-inch tines capable of providing 18-inch tilling width and 10-inch depth. However, a depth regulator allows you to adjust for your desired depth.
The tines counter rotate to break ground faster. Even more interesting is the fact that the tines designed to self-sharpen. You will not need to dismount the tines to sharpen them as is common with other brands. The engine has manual recoil start located in a readily accessible part of the machine. Such starter is convenient as it allows you to start the machine right away.
The SRTT196 Rear tine tiller features an advanced and convenient gearing system. The system consists of a forward gear lever and a reverse lever. It allows for forward and reverses tilling. The benefits of this gear system are far-reaching. Unlike models with single direction gear lever, you will not have to stop the machine to change direction.
The tiller equipped with two large, garden type tires measuring 13-inches. The tires are pneumatic and are very versatile. They can handle any terrain, soil type, and any soil condition. The high-quality tires are great maneuverability.
2. Poulan Pro LCT 208cc Rear Tine Tiller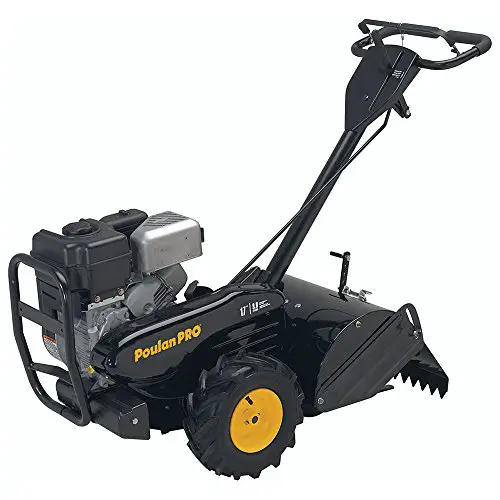 This machine is designed to make your work more manageable in the face of heavy labor. It features 13-inch steel tines that counter rotate to provide you with the power you require to pulverize virgin soil, compacted soil, sod, grass, and clay. The tines cannot stop working even if it encounters small roots that may be lurking underground.
The Poulan Pro rear tine tiller uses a 208cc LCT OHV engine which is powerful and operates smoothly. OHV engines are known for fuel efficacy, powerful performance, and long lasting service. The engine runs efficiently and operates with coolness for years regardless of the level of use.
The secret to the high performance of the Poulan Pro is its heavy-duty chain drive transmission featuring power reverse. The forward and backward capability offers efficient tilling. The powerful, durable design allows for easy transport in the reverse mode while drives the tines in the forward mode.
It is fitted with a split loop handle that you can raise or lower as you desire. The adjust-ability of the handle means you can choose the most convenient position and height. This allows for single-hand operation from either the right or left side of your tiller. Thus both left and right-handed users can operate it without a problem.
3. Husqvarna CRT900L 960930026 17-Inch Rear Tine Tiller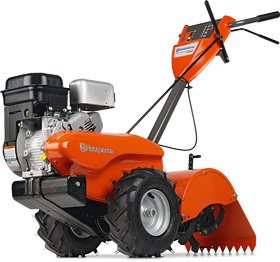 Husqvarna is a common household name. It is because many people associate the brand with high-quality products. One such product is the Husqvarna CRT900L 17-Inch Rear Tine Tiller. This machine provides you a wide range of features at the mid-range price. Such features make this rear tine tiller one of the best in the market.
A reliable 205cc Briggs & Stratton engine offers the machine the power for most tasks. This engine offers a tine rotation at a speed of 210 revolutions per minute. Such speeds guarantee fast tackling of virgin ground or even clay soil. With a 3-quart gas tank, you will not have to stop to refuel the machine. The result is quick and convenient tilling.
The Husqvarna rototiller provides only reverse and forward gear option. It means you cannot adjust the tiller for power or speed. But the reverse gear offers easier tilling since you just walk back when you reach the end of the garden. It will eliminate the need to lift the machine up and turn it the opposite direction. The tines counter-rotate for more efficient tilling.
4. Champion 19-Inch Dual Rotating Rear Tine Tiller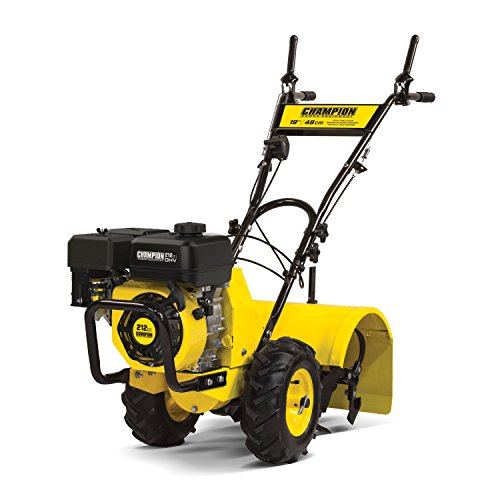 Champion 19" Rear Tine Tiller is versatile thanks to its 19-inch tilling width and an 8-inch tilling depth. In support of the versatility is the dual rotation feature which allows you to switch quickly from the forward to reverse for more flexibility in your garden.
It features a cast-iron, gear-operated transmission that is housed in a compact and heavy-duty cast-iron casing. Champion's 212cc engine drives the gear system. The engine and the gear system offer enough power to tear through even the most compact soil including virgin grounds. Sod and grass cannot stand on its way.
You will also like the tiller's agricultural tires. The 13-inch tires are self-propelled that power effortlessly over uneven and rugged terrains. The self-propelled tires move fast allowing you to achieve much in less time. Very few models feature self-propelled agricultural tires feature sets the rear tine tiller apart from its competition.
The tiller is equipped with 4 heavy-duty 13.5-inch tines made of hardened steel with dual rotation tilling. These are engineered to manage even the toughest of soil conditions with minimal effort and time investment. The machine comes with Champion's 2-year limited warranty which includes free lifetime technical support from qualified and dedicated technicians.
5. Husqvarna 14-inch Counter Rotation Rear Tine Tiller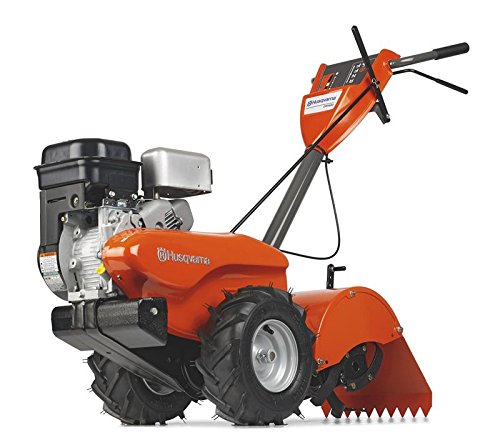 Husqvarna Counter Rotation Rear tine tiller is a great option if you prefer a heavy-duty unit to handle more demanding tasks. It offers you more power which makes it an excellent choice at a slightly higher cost. Each of its components is built for long life and optimal performance in all types of soil.
It comes with an easy to start 205cc Briggs & Stratton engine that has enough power to chew through compacted soil, sod and grass. A counterweight feature aims at enhancing the weight on wheels for improved balance and stability for safe operation. This feature ensures it works perfectly even on uneven or rugged terrains.
The machine features tines that counter-rotate for deep-digging or making the ground surface ready for cultivation. The forward and reverse capability means enhanced control and maneuverability. Beginners have no reason to worry because of the ease of use provided by these unique features.
At 14-inch tilling width and adjustable tilling depth, you can be sure the machine will do the job fast and efficiently. It is equipped with Chevron tires to ensure maximum grip and improve traction in different terrains. It is enough to say that this Husqvarna rear tine tiller is one of the most powerful, smooth to drive and well-balanced rototillers currently in the market.
Things to Consider Before Buying a Rear Tine Tiller
Have you found what you were looking? It is our humble belief that you can agree with our top 5 best tine tillers. We understand the variations in preferences amongst the general population. For that reason, we have included this useful buying guide to help you in decision making. Here are the factors that should influence your decision:
Engine
We can consider the engine of a machine its heart. Can anyone have a healthy and productive life with a faulty heart? I guess you will answer in the negative. When looking for an ideal rear tine tiller to bring home, consider its engine. You can choose between 2-stroke or 4-stroke engines. The 2-stroke or 2-cycle engines are louder and powerful. They tend to less efficient fuel efficient and less reliable.
The 4-stroke engines operate quietly, more fuel efficient and very reliable. Such engines require you to mix oil with fuel. This preserves engine life and boosts its fuel consumption. Most high-quality rear tine tiller engines have 4-stroke engines. Despite their inefficiency, 2-cycle engines can be very powerful.
Tilling Width and Depth
Tilling depth is the primary determinant of how fast you will complete your job. Rear tine tillers with the most significant tilling width work more quickly. It is because they will shred the most ground with each pass. However, tillers with very wide tilling width may be difficult to control. It would be wise to go for a balance between with and your ability to control the machine. I would recommend a tilling width of between 17 inches and 18 inches.
Many modern rear tine tiller models will feature adjustable tilling depth. But, some models will dig deeper than others. The major determinant of tilling depth is the growth characteristic of each seed. Certain seeds may need very deep soil to grow well. It is, therefore, safe to buy a rear tine tiller with good depth. I would recommend 10 inches tilling depth.
The Manner of Tine Rotation
The manner in which tines rotate has a bearing on soil aeration. It is common knowledge that counter-rotating tines are the most efficient. They stabilize the machine and allows for better control. Standard (forward) rotating tines may also shred rough compacted soil with ease. The other type is dual rotating which feature both forward and counter-rotating mechanisms. Choose a counter-rotating tine model if the type of soil in your garden is predominantly clay.
Electric versus Manual Start
Manual start involves pulling a cord to start the engine. Most traditional rear tine tiller models feature manual start. However, the modern models equipped with electric starters. The latter types allow you to start the engine with a simple push of a button. Compare two tine tillers of the same quality and capabilities. The one with electric starter will be hundreds of dollars more than the manually started one. The difference is the ease and convenience the electric starting model brings. Would you sacrifice hundreds of dollars for this simple feature?
Tires Quality and Size
The tires of any tine tiller are the significant determinants of its control. They also determine the maneuverability of the machine. Good tires make the machine easy to control and maneuver. They should have excellent flotation and traction in all types of soil and terrains. Tires with good treads will grip clay soil well. Good quality tine tillers have pneumatic tires of 13-inches in the least.
Handlebars
Tine tillers can have handlebars that are either fixed or adjustable. Adjustable handlebars are great. They also give users the flexibility to adjust the handle to their height. It improves maneuverability and comfort-ability during extended use. Models with fixed handlebars are not as flexible, but they have other features of comfort.
Transmission
Try the best you can to buy a rear tine tiller with at least two speeds. One speed for forwarding movement and the other for reverse movement. Those models lacking reverse gear may get into trouble should the machine get stuck. You will have a tough time getting it unstuck. High quality and often high price tag models feature variable speed. I would not advocate for those models. The must-have feature an ideal rototiller is neutral gear. This feature makes the machine easy to transport.
The Best Rear Tine Tiller: The Editor's Choice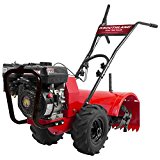 The best rear rototiller in our case is the Southland SRTT196E Rear Tine Tiller with 196cc. This machine has all it takes to get the work done. Although affordable, the tiller has features and specifications only comparable to those of high-end models. Its powerful and efficient 4-stroke OHV engine can take on any terrain and soil type.
The tiller provides a whopping 10-inch tilling depth and 18-inch tilling width. These measurements are ideal for both small and medium size gardens. Besides, it features depth regulator which adds to its versatility. This rototiller has durable 11-inch counter-rotating tines that self-sharpen. Both features are for long-term optimal performance.
Another great feature is the reverse gear. Thus you will not have to stop the machine and lift it to continue tilling from the end of your garden. It's large 13-inch pneumatic tires guarantees superior maneuverability. The SRTT196E is genuinely the best tine tiller for the money. You better check it out.
Conclusion
It is my conviction that this in-depth review of to 5 best tine tillers has proved helpful to you. Only a high-quality rototiller can handle all manner of terrain. It will not spare even rough, compact virgin ground. These five are genuinely the market's best. They may have overlapping features but each is unique. All have powerful and efficient engines, excellent transmission and ideal tilling measurements. The review aimed to provide you with a starting point. If you do not like our picks simply use our buyer's guide to help you make an informed choice. Nonetheless, I guarantee you will love our choices.