7 Best Lawn Mower Lifts Review & Buying Guide
Whether you have to change the blades or carry on routine maintenance, the best lawn mower lifts can help you raise your riding lawn mower while staying safe. Using rudimentary raising methods or inadequate equipment could not only damage your machine, it could become potentially life-threatening if the heavy mowing equipment falls while you're working under it.
It's often easy to forget about safety when we're so focused on getting the job done. Protecting yourself from injuries though should be your #1 priority both at work and at home.
If you use an adequate lawn mower lift to raise your equipment, you'll dramatically reduce the risks of damaging your machine and getting injured. Let's take a close look at the 7 best lawn mower lifts currently available.
| Image | Product Name | Capacity | Price |
| --- | --- | --- | --- |
| | MoJack PRO Lawn Mower Lift  | 750lb | |
| | MoJack EZ Max Lawn Mower Lift | 450lb | |
| | Pro Lift T-5335A Lawn Mower Lift | 350lb | |
| | Pro Lift T-5305 Lawn Mower Lift | 500lb | |
| | Pro Lift T-5300 Lawn Mower Jack Lift  | 250lb | |
| | Goplus lawn Mower Lift | 300lb | |
| | MoJack ZR Residential Riding Lawn Mower Lift | 300lb | |
Top 7 Best Lawn Mower Lift Reviews
Read the lawn mower lift reviews below to make sure your new equipment is fit for you and that it will live up to the expectations.
1. MoJack PRO Lawn Mower Lift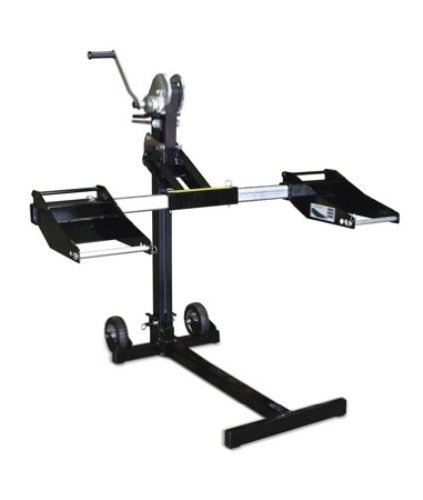 The MoJack PRO is undoubtedly the best you could get your hands on. It is compatible with virtually all residential lawn tractors and zero turn mowers, handling wheel spans between 31.5 and 62.5 inches.
Impressive lifting capacity of 750lbs ensures the possibility to lift even heavyweight equipment up to 28 inches high. Sufficient clearance for routine maintenance and blade substitution.
The drill-turned design is ideal for most lawn owners. It gives you the possibility to lift the mower either with a power drill, but also manually with the included lever. Furthermore, the unit folds compactly for easy transport and storage.
Easy to assemble, easy to use, and reliable, this lawn mower lift is undoubtedly worthy of the best in the class title.
Pros
Fits most lawn tractors and zero turn mowers on the market

750lbs lifting capacity

Manual or power drill lifting

Foldable for compact storage

Easy to assemble
Cons
The paintwork may have some scratches

It needs constant lubrication
2. MoJack EZ Max Lawn Mower Lift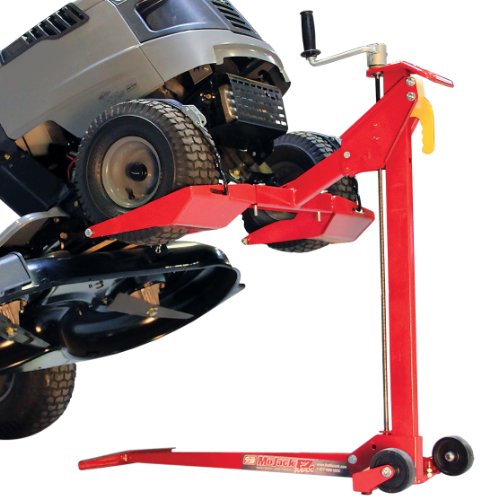 If you don't need a lot of lifting capacity and would rather save a buck, the MoJack EZ Max could be a great alternative. Coming from the same brand, this lawn mower lift features most of our top pick's qualities.
The main difference between the two units is the lower lifting capacity of the EZ Max, of only 450lbs.
Nevertheless, the lift is still capable of handling most residential lawn tractors and zero turn mowers. It's compatible with wheel spans between 18.5 and 47.5 inches, and it can lift your mowing equipment up to 24 inches high.
You can raise this mechanical lift either manually or with a power drill; furthermore, the unit also boasts a patented design that makes assembly a breeze.
Pros
450lbs lifting capacity

Reliable and rather inexpensive

Lift mower up to 24 inches high

Dual lifting modes

Foldable for easy storage
Cons
Lowering the lift could be difficult

Some parts feel a bit flimsy
3. Pro Lift T-5335A Lawn Mower Lift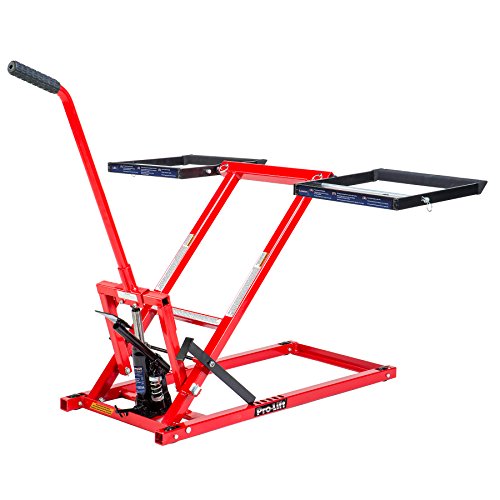 Fairly lightweight for a lawn mower lift and really easy to use, the Pro Lift T-5335A is ideal for smaller lawn tractors and zero turn mowers. It can handle machines with a wheel span between 40-3/4 and 49-3/8 inches, lifting up to 350lbs at 23 inches high.
That's a bit less lifting capacity than our favorite picks; nonetheless, you'll still have plenty of clearance for sharpening or changing the blades, changing the belt, or cleaning the deck.
A thing we like about this machine is its rubber padded platform designed to prevent scratching your machine. Another great design feature is the non-slip foot pedal that allows a quick and effortless lifting of the load.
This lawn mower lift is easily maneuverable, and it can be adjusted to work with a wide range of machines. Dependable and reliable, this is our favorite hydraulic lawn mower lift.
Pros
Ideal for smaller riding lawn mowers

350lbs lifting capacity

Rubber padded platform and safety lock

Foot pedal lifting mechanism
Cons
The mower might slip easier than expected
4. Pro Lift T-5305 Lawn Mower Lift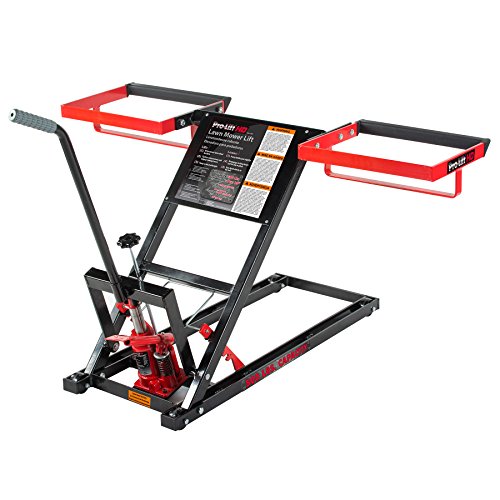 The Pro Lift T-5305 is another great choice for people operating a bigger lawn mower. It can lift up to 500lbs at over 26 inches. The wide wheel span compatibility gives you plenty of flexibility when it comes to what equipment it can or can't handle.
Adjusting between 19-1/4 and 42-1/2 inches, this lift can raise most zero turn mowers, lawn tractors, ATVs, and even heavier push mowers.
The hydraulic lifting mechanism is easy to use thanks to the foot pedal. Furthermore, engaging and disengaging the safety locking levers is also easy. Backed by a 90-day limited warranty, versatile, and dependable, this lawn mower lift can easily satisfy most homeowners.
Pros
500lbs lifting capacity

Adjustable wheel span up to 42.5 inches

26-inch lifting height

Hydraulic foot pedal

Safe and easy to use
Cons
A bit on the expensive side

Paintwork could be improved
5. Pro Lift T-5300 Lawn Mower Jack Lift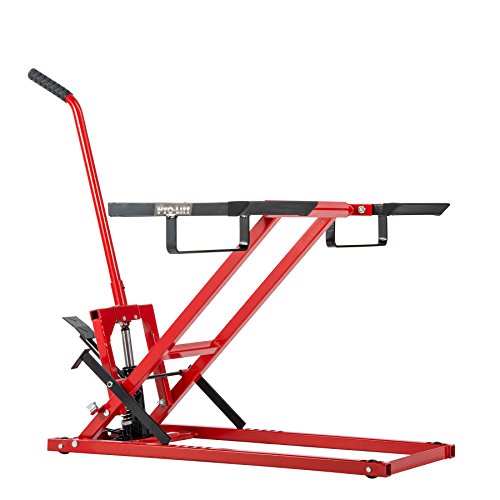 Smaller but reliable, the T-5300 is nothing but the smaller brother of the T-5305 above. This lawn mower lift will surely bring satisfaction and is more affordable for those who don't need a too high lifting capacity.
This model can raise up to 300lbs and impresses with a lifting height of 22 inches. Compatible with wheel spans between 17-1/4 and 41-1/4 inches, this lawn mower lift also gives you all the flexibility you need to deal with your lawn and garden care equipment.
From smaller riding mowers to push mowers and even ATVs, you can use this lift for most of your machines.
Just like the other Pro Lift units on this list, the T-5300 comes with a hydraulic lifting mechanism operated by a foot pedal. Easily maneuverable, adjustable, and affordable, this is great equipment to add to your arsenal.
Pros
Hydraulic lifting mechanism

Easy to assemble

Ideal for smaller riding mowers

Adjustable wheel span
Cons
The lift seems a bit flimsy, but it works wonderfully
6. Goplus Mower Lift
A sturdier but also more expensive lawn mower lift to consider if you need a 300lbs capacity unit, the Goplus Mower Lift is a piece of well-built hydraulic equipment that can lift your machines up to 25 inches.
An adjustable width makes it ideal to use with machines with a wheel span between 36 and 50.5 inches. While great for most residential riding mowers, this unit is less suitable for lifting smaller ATVs or self-propelled push mowers.
Similar to the Pro Lift units, this lift boasts a hydraulic system operated by a foot pedal. Not only it's easy to use, but it's also easy to move.
In fact, this unit comes with wheels that ensure easy transport from one place to another. It's also easy to assemble, and if you don't feel like putting it together, you can always get expert assembly for a small extra cost.
Pros
Adjustable width and lifting height

300lbs maximum load weight

Mobility wheels for easy transport

Easy to operate from the foot pedal

Expert assembly available
Cons
It could be damaged during delivery

Poor customer support
7. MoJack ZR Residential Riding Lawn Mower Lift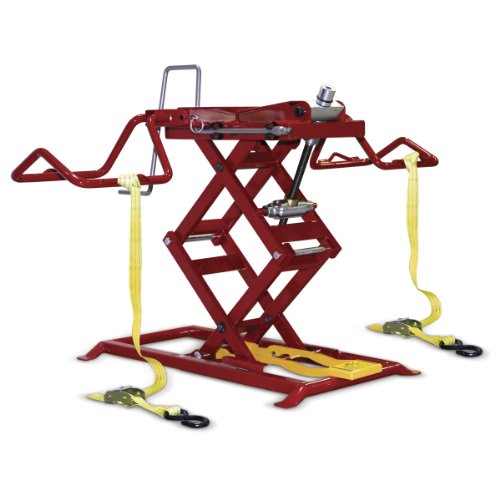 The MoJack ZR is ideal for all residential users looking after no-frills equipment. This scissors lawn mower lift is durable and reliable, lifting seamlessly up to 250lbs.
It has a lifting height capacity of 20 inches and is ideal for the smaller lawn tractors and zero turn mowers with a wheel span of up to 43.5 inches.
Like all scissors lifts, the unit is easy to operate; it comes with a hand lever, and you can also lift it with a power drill. We also like that it folds flat for compact transport and storage. What we like less is the rather high cost, considering its capacity.
If you don't mind the premium though and need a reliable machine, this riding lawn mower lift is undoubtedly a great choice.
Pros
Adjustable wheel span measurement between 17.5 and 43.5 inches

Folds flat for easy storage

2-year warranty for residential use

250lbs lift capacity
Cons
The straps coming with the lift are not very strong

A bit on the expensive side
How We Chose Our Selection of Lawn Mower Lifts
Besides subjective considerations, such as the size and weight capacity of a lift, there are also a few objective criteria that come into play when choosing the best lawn mower lifts. To make sure all units on this list can live up to expectations, we checked the following things:
Build quality
A lawn mower lift must be able to hold the load securely to prevent any risks of injury or death. All lifts that have made it to our list are praised for their built quality and functionality, despite some of them looking a bit flimsy.
Reviews
The easier way to assess the quality of a product is by checking its verified reviews. We read hundreds to make sure every lawn mower lift we mentioned represents a good investment. Whether you need a smaller tool for smaller riding mowers or push mowers or a heavy-duty lift for a semi-commercial unit, all units in this article can surely serve their purpose perfectly.
Price
Assessing what is a good price for a riding mower lift is tricky. A high price doesn't necessarily mean high quality, and likewise, a cheap lift can bring the quality you'd expect from a top-in-class pick. Regardless of their actual cost, all lawn mower lifts in this article bring exceptional value for money.
Lawn Mower Lift Buying Guide
Lifting your riding lawn mower is essential for maintenance and occasional repairs. If you don't want to use rudimentary methods, such as placing your machine on concrete blocks or logs, and unless you don't want your lawn mower lift to fail, you must learn how to choose the right unit.
The first thing to decide is the type of riding lawn mower lift you need. There are four major categories to consider.
Scissors lift

: Is a simple type of lawn mower lift equipped with a lever you will have to use to raise the mower manually. They are ideal for smaller machines, including heavier types of push mowers, small ATVs, and entry-level riding mowers. However, most scissors lifts are too small for zero turn mowers

Drill-turned lifts

: Are designed for heavier machines, and can easily lift up to 750lbs. These units may or may not have a hand lever, but they can all be turned and raised with a power drill. This makes it easier to operate than a scissors lift.

Hydraulic lifts

: If you'd rather step on a pedal than turning a drill, a hydraulic lift could be the right type for you. These machines are also suitable for raising heavy riding mowers, ATVs, and small garden tractors. Due to the operation method, these units enhance control when lowering the load.

Pneumatic lifts: Ideal for garages and riding mower repair workshops, these lifts are the most reliable but also the most expensive. They use the power given by an air compressor and require minimal intervention from your side when lifting or lowering the load.
Lift and Wheel Span Capacity
Perhaps the most important two things to check before buying are the lift capacity and the wheel span capacity. The first tells you the maximum weight your lift can raise securely. Depending on the size of your machine, you can choose from the following lift capacities:
  200 – 250lbs:
Ideal for light duty riding mowers, push lawn mowers, and other lightweight gardening or lawn care equipment.
  300 – 500lbs:
Suitable for most residential lawn mowers, ATVs, and smaller zero turn mowers.
  Over 500lbs:
Perfect for almost all riding mowers, residential zero turn mowers, lawn tractors, ATVs, and other heavy equipment.
When assessing the necessary lift capacity, remember that a lawn mower lift only raises the front of your machine. That's why the lifting capacity doesn't refer to the maximum weight of the mower.
For instance, if your mower weighs 700lbs, you need a lift that can raise at least 350lbs. However, it is recommended to get a lift with a capacity slightly higher than necessary. To follow the example above, your lift should be able to raise at least 400lbs, to make sure you can work under the mower in all safety.
Checking the wheel span capacity; on the other hand, is essential because if the wheels are not perfectly centered on the lift's pads, the mower may lose balance and slide when raised. Needless to say what could be the consequences if you or someone else is caught under it.
Depending on the distance between your mower's front wheels, you can choose from lifts with wheel span capacities between 17.25 and 62.5 inches. Most lifts even have adjustable spans, so they can accommodate a larger selection of mowers.
Lifting Height
Once you ensured that the lifting capacity and wheel span suit your needs, it's time to check how high the lift can raise your mower. Most models on the market can lift the front of your mower at a height between 20 and 28 inches.
There is no rule to determine which height is better, but as a rule of thumb, the higher, the better.
A higher lifting means you'll have a broader view of the cutting deck; changing the blade, sharpening it, or performing routine maintenance is also easier if your lawn mower is raised a bit higher.
However, lifts with a lower lifting height are usually cheaper, so you should always check the price factor too.
Safety Features
The actual method each lift utilizes to hold the mower securely when raised varies from unit to unit. Nevertheless, it is essential to check that it is reliable. The best rated lawn mower lifts are those that come with an arm locking mechanism that ensures the arm cannot slip when it's raised.
Failure to do so can damage the mower and poses a serious life-threatening hazard.
Another safety feature is represented by rubberized pads. They are not essential but tend to improve grip on the mower's wheels, holding it better. At the same time, these pads also protect the paintwork on your expensive riding mower.
Lawn Mower Lift FAQ
Q: How to measure my mower's wheel span?
A: The wheel span is typically measured from the middle of one wheel to the middle of the opposite wheel. However, most lawn mower lift manufacturers measure the wheel span from the exterior of a wheel to the exterior of the opposite wheel. To make sure you measure it right, check the lift's manual and follow its indications.
Q: What is the difference between a mechanical and hydraulic lawn mower lift?
A: A mechanical lift utilizes either a lever or a power drill to raise the load, whereas a hydraulic one utilizes fluid pressure for the same purpose. Thanks to the extra power offered by the fluid, hydraulic lifts are easier to operate than mechanical ones.
Q: Does my lawn mower lift need maintenance?
A: Like any other mechanical or hydraulic equipment, your lawn mower lift needs maintenance. Mechanical units usually require periodical lubrication. Hydraulic equipment will also ask you to check the fluid level and pressure regularly. However, all needed maintenance is usually basic and more often than not, you'll be able to perform it on your own, following the instructions in the user manual.
Conclusion 
Whether you want to sharpen the blades, carry out regular maintenance, or repair a damaged riding lawn mower, a lawn mower lift is essential. This piece of equipment allows you to raise the machine to the favorite height and perform your tasks under it easily and effectively.
From mechanical lifts to hydraulic ones, we hope this guide has helped you find the best lawn mower lifts on the market. All you have to do is pick the one that matches your wheel span, lift capacity, and budget. Thank you for reading about the 7 best lawn mower lifts. Here are some other articles you may enjoy reading.