Top 5 garden tractors
Are you looking for a quality garden tractor?
If you've got a lot of heavy-duty garden work, garden tractors prove to be an excellent investment. Compared to lawn tractors, garden tractors are made for heavier tasks that require more power, and they can take a lot of abuse!
In this article, we will go through the top 5 garden tractors with reviews currently available to buy on the market. We will go over and compare their features to help you make the best decision for your particular situation.
Top 5 garden tractors with reviews
There are a lot of garden tractors available to buy on the market. However, not all of them are of high-quality.
Since garden tractors aren't easy on your pocket, it is advisable to buy the best one you can so that it lasts a long time and is worth the money you spend on it.
Let's take a look at the top five garden tractors available on the market with reviews.
1. Craftsman T225 46-Inch Gas Powered Riding Lawn Mower
When it comes to high-quality machines, Craftsman is a brand that has an excellent reputation on the market. The T225 gas-powered garden tractor comes with a 19 horsepower Briggs and Stratton Engine which makes it top of the class.
Manufactured in Martin, Tennessee, the garden tractor offers you a comfortable yet powerful ride.
Features
The ready to start technology featured on this tractor provides a quick start which is extremely efficient

Features a 42-inch cutting deck for well-manicured grass

Comes with underside cleaning that saves time and is extremely efficient

The high-backed seat is cushioned for a comfortable ride

The foot hydro transmission makes things extremely efficient

19 HP Briggs and Stratton engine is powerful for large yards
Pros
No need to choke or prime

Features a 46-inch cutting width

You can mow in reverse

The turf saver wheels offer better clearance
Cons
Issues with customer services
2. Husqvarna YTH24V48 Yard Tractor
If you want quality results with premium performance, the Husqvarna YTH24V48 is the garden tractor to go with. The tractor comes with a 24 HP Briggs and Stratton V-Twin engine and offers a smooth yet comfortable ride. Not just that, the tractor also comes with premium features like cruise control that you won't find elsewhere.
Features
Comes with a 48-inch cutting width that makes things extremely efficient--especially if you have a large yard

The Hydrostatic Pedal Transmission is extremely fast where it counts and the tractor also comes with cruise control

Features Electric Blade Engagement which makes things convenient

Compact in size, the tractor doesn't need a lot of room when it comes to storage

The fender-mounted cutting height adjustment will add to your convenience
Pros
Comes with an adjustable seat for utmost comfort

The ergonomic steering wheel makes the tractor easy to operate

Features with variable forward and backward speed

The Air Induction Mowing Technology featured helps improve airflow within the deck
Cons
Replacement parts are on the expensive side
3. Ryobi Riding Lawn Mower RY48111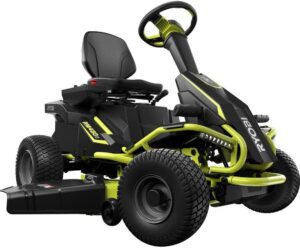 If you have a green thumb and wish to go greener, the Ryobi RY48111 Riding Garden tractor is the best suited for you. This tractor features a 100 Ah battery and three brushless motors that provide superior power and excellent performance.
The tractor offers 2.5 hours of run-time and can mow up to 2.5 acres per cycle.
Features
The 2-Blade Deck and 12 Position Manual Deck Adjustment featured on the tractor provide a clean and level cut

Is extremely silent in operation and emits only 70dB, ensuring that it won't disturb people nearby

Features cruise control for maximum comfort and even comes with a USB phone charger

Offers up to 2.5 hours of run-time per charge, which is excellent
Pros
Features LED headlights that consume less power yet are bright

Comes with 12 positions manual deck adjustment

Extremely low maintenance which saves you money and the hassle

The 38-inch 2-blade deck makes cutting extremely efficient
Cons
Issues develop in the battery after long-term use
4. Husqvarna YTA24V48 Tractor Mower
The Husqvarna YTA24V48 is one of the best heavy-duty garden tractors available to choose from. It offers maintenance free-operation owing to its FAST auto transmission.
In addition to that, it also comes with a choke-less start so, all you have to do is to turn the key and get going!
Features
The reinforced cutting deck ensures top-notch performance when it comes to cutting the grass

The blade engagement is electric which makes things high efficient

Choke-less start is another added advantage

Turning radius of 16 inches allows you to navigate around obstacles and mow in tighter spaces

Features an adjustable seat and armrests for convenience

The automatic transmission features cruise control
Pros
Husqvarna offers a 3-year bumper-to-bumper warranty

Excellent to use in flat as well as uneven terrain

The deluxe comfort steering wheel offers convenience

The Step-through design makes things comfortable
Cons
Issues with working on hills
5. Troy-Bilt Riding Lawn Mower with 547cc Engine Tractor
With a seven-speed transmission and a 17.5 horsepower Briggs and Stratton Engine, the Troy-Bilt Pony Riding Lawn Mower Tractor is one of the best garden tractors for backyard.
The tractor comes with a 42-inch steel deck that has dual blades for added efficiency.
Features
Features a 13-gauge steel StepThru™ frame to ensure strength and stability

Comes with 5-position Deck Height Adjustment to help you get the best trim

The 7-speed Shift-on-the-Go transmission allows fast and easy speed adjustment

The automatic headlights improve visibility and add to the convenience of use

Comes with a 2-year limited warranty
Pros
The low-back seat is extremely comfortable where it counts

Comes with a twin-blade side discharge deck that cuts cleanly and quickly

18-inch radius allows a close cut
Cons
Maximum cutting height is 3.5 inches
Buying Guide
Everyone has different needs. In this section, we will go through some things you can consider so that you make the best choice according to your specific needs.
The Size of Your Yard
The bigger your yard, the bigger the lawnmower needs to be. An excellent garden tractor will cover your entire yard and do all the heavy work that's needed in a short amount of time.
If your yard is filled with a lot of blocks, like shrubs and trees, it is a good idea to go with something with a smaller turning radius. For such jobs, Husqvarna provides excellent tractors that feature cutting widths from 77 cms.
The Type of Lawn Tractor
The size of your garden can also help you determine the type of tractor that you'll need. For larger gardens, a bigger deck will help you get the precise cut. It is essential to choose the right garden tractor to ensure that it meets all of your gardening needs.
Garden Tractor Accessories
Garden tractors come with various additional accessories which include things like front mount, Dump Cart, including tow-behind, Tractor Rotary Cutter, Box Blade, Rotary Tillers, now evacuation, etc. Choose a tractor that offers the accessories you may need.
Getting a tractor that comes with an accessory to collect the grass clippings can also help you speed up the clipping process. Grass clippings make excellent fertilizer so, if you're into gardening, it can prove to be useful.
Budget
Your budget is one of the biggest things to consider when purchasing a garden tractor. You get exactly what you pay for. However, there are some brands that offer a high-quality product with fancy features at a bargain price.
If you're looking to purchase from a reputable brand, you have to spend a bit more dollars. However, do keep in mind that more expensive doesn't always mean better quality. Do your research before getting something, or you may regret it later.
Additional Features
If you mow your lawn in dimly lit conditions, you can go for a garden tractor that comes with headlights. Several tractors come with LED lights that are bright and don't consume too much power.
The final cost of the tractor depends on the amount of money you're willing to shell out.
High-quality garden tractors come with various accessories that help you customize it according to your needs.
Conclusion
Did we help you find the best garden tractor for yourself?
​According to our experts, the Craftsman T225 is the highest rated garden tractor, followed by the Husqvarna YTH24V48 Yard Tractor. These can help you get a precise cut while helping you remain within budget.
If you're looking for something on the greener side with excellent features, the Ryobi RY48111 will be the right choice for you.
The Husqvarna YTA24V48 also provides top-notch performance while being reasonably priced. Finally, the Troy-Bilt Pony has been one of the best-rated garden tractors that's worth a mention. Thank you for reading Top 5 garden tractors with reviews.
Do you have any questions? Let us know in the comments, and we'll get back to you as soon as we can.