Official Succulents of Summer plant giveaway!!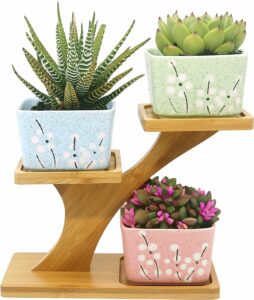 Welcome to the official succulents of summer plant giveaway. To celebrate the start of the summer season, Outdoor Garden Care is giving away one 3 Color Ceramic Succulent Plant pots with 3 Tier Bamboo Tray Holder. This beautiful Succulent set comes with 3 color ceramic succulent plant pots with 3 succulent plants as well as a 3 tier bamboo plant stand! 
Giveaway rules!!!!
The official giveaway rules are simple. All you have to do is click on the Newsletter / giveaway link at the top of the main page of www.outdoorgardencare.com and sign up for the newsletter / giveaway. Just enter your email address no later than June 20th.  That is it! It is completely free. The drawing will be held on June 21st at noon. Limited to the continental United States. Winner will be notified by email. If the winner doesn't reply within 48 hours, a new winner will be drawn.  Good luck and thank you for checking out our official succulents of summer plant giveaway.
Congratulations to the winner of the official Succulents of summer plant giveaway Rebecca Zoeler of Tallahasse, Florida!