Best Hydroponic Nutrients
Hydroponic farming is one of the most lucrative and rewarding farming methods. And as time goes by more and more people are adapting to this new farming method with hopes to get more produce.
However, as much as hydroponic farming is indeed rewarding, you need to be well informed on the best hydroponic nutrients to use. Just like our bodies, hydroponic plants require proper nutrient supply. Without providing the necessary nutrients, your hydroponic garden will struggle and finally fail much to your frustration.
But one thing you need to know is that, not every hydroponic nutrient out there is ideal for use on your garden.
Some of the brands do not meet some of the industry standards which have left many farmers wondering which the best hydroponic nutrient to buy is. But you do not have to worry about all those lengthy research.
We understand how challenging it can be when choosing quality hydroponic nutrients. And for this roundup, we have compiled a list of quality brands that have been tested and surpassed all the industry standards. Before we take you through the featured brands, here is a quick comparison table. Just take a look!
Image
Product Name
Our Rating
Price
General Hydroponics Flora Series Fertilizer

Five Stars

*****

$35.79
Fox Farm Liquid Nutrient Trio Soil Formula (Pack of 3)

Five Stars

*****

$29.01

General Hydroponics Flora Series Performance Pack

Five Stars

*****

$51.29
AeroGarden Liquid Nutrients (1 Liter)

Four Stars

****

$29.48

Advanced Nutrients (Pack of 3)

​ 

Five Stars

*****

$54.93
Top 5 Best Hydroponic Nutrient Review
1. General Hydroponics Flora Series Fertilizer 3 part set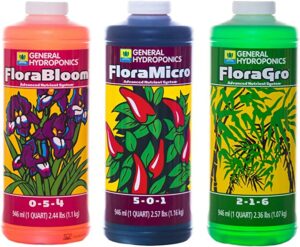 General Hydroponics is a trusted brand when it comes to planting nutrients. The Flora series is one of their finest.
I recently learned that the series is so great that the National Aeronautics and Space Administration (NASA) and Antarctic research use it in their botanical study in space. The researchers choose it because of its superior formulation and reliability.
The package comes in a three-tier system named grow, bloom and micro.  But why does GH Flora series sell in packs of three?
Each of the packs contains a specific formula with a combination of different nutrients at various concentrations. The aim is to give you the flexibility of mixing and customizing your hydroponic nutrients to suit the exact needs of your plants at different stages of their growth cycle.
It's a smart innovation since all plants have unique needs, and these needs change as the plant grows to maturity. GH splits the formulas in such a way that each stage of plant growth gets the optimal nutrients for fast and healthy growth. The product comes with recommendations on how to mix or customize the formulas.
If you use the three parts of the nutrients correctly, you'll enjoy an enhanced flavor, nutrient content, improved aroma richness, and better essential oils. You can also be sure of getting the highest yields possible with hydroponic systems.
FloraMicro acts as the foundation of the set. It is formulated with a mixture of calcium, trace minerals, and nitrogen. Your hydroponic crops need these things throughout their growth cycle.
When your plant reaches its vegetative stage, the FloraGrow joins the bandwagon. It provides additional nitrogen and potassium to enhance vegetative growth.
The third part, FloraBloom adds nutrients such as magnesium, phosphorus, and sulfur. These nutrients are critical to flower and fruit development in plants. It may take you some time to master how to properly use General Hydroponics Flora Grow, Bloom, and the Micro Combo Fertilizer set.
Pros
Enhances yields and improves plant quality

It's possible to adjust mixtures to match the individual needs of plants

Maximum solubility thanks to highly purified concentrates

It's PH balanced for effortless use

Superior formulation and reliable
Cons
Higher priced in comparison with competitors

May not be efficient for a commercial scale hydroponic system
2. Fox Farm Liquid Nutrient Trio Soil Formula (Pack of 3)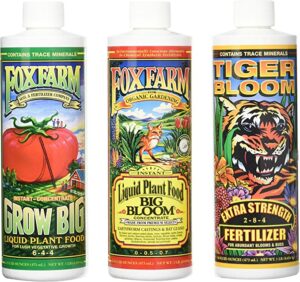 This liquid nutrient formula for hydroponics consists of three parts that work in synergy throughout the growth cycle of your plants.
Fox Farm optimized this liquid fertilizer to encourage vegetative growth and boost the overall productivity of your hydroponic crops.  The trio soil formula includes Grow Big, Big Bloom, and Tiger Bloom. Using them in sequence can guarantee you brilliant blooms and luscious fruits each season.
The Grow Big (6-4-4) part is a water-soluble formulation containing various essential ingredients designed to boost vegetative growth. The active ingredients in this liquid fertilizer include Norwegian Kelp and earthworm castings. These elements will enhance the vigor, growth, and production of your crops.
The Tiger Bloom (2-8-4) part is a brilliant formula that supports the healthy development of your crop's buds, flowers, and fruits. It's a high phosphorous hydroponic nutrient that contains earthworm castings and Norwegian Kelp. Tiger Bloom's low pH means improved nutrient availability and stabilized storage.
The final part, Big Bloom (0.01-0.3-0.7) is a micro-brewed formulation that consists of rock phosphate, bag guano, earthworm castings, Norwegian Kelp as well as other crop-boosting ingredients. This is the last component you apply to support flowering and fruit formation. It will also help you to extend your growing season.
Start your hydroponics growing season by supporting the first crop growth with Grow Big. Follow this by applying the Tiger Bloom when your plants begin to bud. Use the Big Bloom to help the growth of your crops throughout their growth cycle or season to keep supporting the mature plants.
Pros
Highly enriched liquid fertilizer

All-in-one solution for enhanced fertilizer efficiency

Low pH improves nutrient availability to your plants

Guarantees improved yields season after season

The formula is effective and reliable for different hydroponic crops
Cons
Some buyers received damaged or open bottles

Maybe too strong for beginners in hydroponics
3. General Hydroponics Flora Series Performance Pack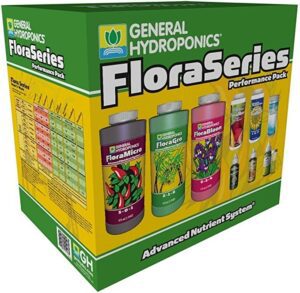 You can trust the General Hydroponics brand to give you premium hydroponic nutrients for your garden. The General Hydroponics Flora Series Performance Pack contains: 16 oz. Flora Micro; 16 oz. FloraGro; 16 oz. Flora Bloom; 8 oz. Flora Blend; 8 oz. Liquid KoolBloom; 4 oz. FloraKleen; 1 oz. Rapid Start; 1 oz. Floralicious Plus; 1 oz. pH Test Indicator
This means you get an entire line of top rate organic plant meals as well as dietary supplements. Each of these components has its own function in boosting the growth of hydroponic crops while the cumulative effect results in optimal yield for vegetables, herbs, and fruits.
Designed to excel in coco, hydroponics and soil
The Performance Pack contains an assortment of Flora nutrients and a pH Test Indicator
Flora series is the foundation of the "Building-Block" System Provides Nitrogen, Potassium, Calcium and trace elements
Pros
Premium quality botanical foods and supplements

Excellent startup pack for hydroponic gardener beginner

Supports plant growth throughout the growth season

Formulated from entirely natural sources of plant food

Improves the rate of plant growth and yields

Self-buffering – no need for adjusting pH
Cons
May not do well with certain herbs such as legal marijuana without changing the pH
4. AeroGarden Liquid Nutrients (1 Liter)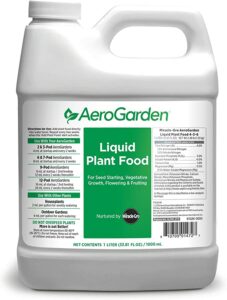 If you own any Miracle AeroGarden model, you'll understand just how expensive nutrients and seed pods can be. A cheaper alternative would be to buy seedless pods and then add the seeds of your choice to the pods. You can then purchase nutrients in bulk. You will save a lot of money.
Choosing this alternative means purchasing a liquid nutrient that is potent, safe and reliable. The AeroGarden Liquid Nutrient offers you 1 liter (about 100 feedings worth of hydroponic nutrients to last you a few seasons.
This patented liquid formulation by AeroGarden will guarantee you better germination, enhanced growth rate and increased productivity. The organic pH buffering system of this liquid fertilizer means you can use it from the seedling stage through to the vegetative and flowering stages.
Does this mean you cannon use this liquid fertilizer if you do not use an AeroGarden system? The answer is NO. You can still use the AeroGarden liquid nutrition if you are seeking a simple and hassle-free fertilizer for your novel hydroponic garden. This plant food is versatile and practical.
To use AeroGarden Liquid Nutrients, mix 4-8 ounces of the concoction to a gallon of clean water. After thorough mixing, apply the solution to your plants similar to the way you sprinkle your houseplants.
Pros
Excellent for all AeroGarden models

Great also for outdoor and indoor plants, trees and shrubs

Over 100 feedings are enough for several growing seasons

Highly effective – a single part nutrient is enough for seedlings, vegetative growth, and flowering

AeroGarden pH buffering system works for any hydroponic applications
Cons
Dispensing from the packaging jag can be wasteful – a pouring spout would be great

Could be too pricey for beginners in hydroponic gardening
5. Advanced Nutrients (Pack of 3)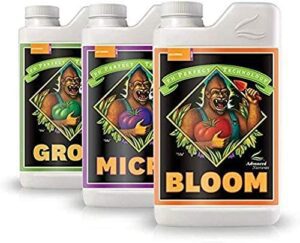 Another trustworthy brand that produces some of the best hydroponic nutrients is Advanced Nutrients. The brand has created tens of growing formulations to provide your plants with everything they need at different stages of growth and when they need it most. The outcome is what every gardener dreams of – better crops and optimum yields.
The base nutrients in this formula are pH Perfect Grow, Micro, and Bloom.  Advanced Nutrients precisely formulated the trio to give your hydroponic plants the precise ratios of different nutrients and at the best concentrations to boost growth and productivity.
If you hate pH meters, pens, and papers, then you'll love this part. The Advanced Nutrients pH Perfect nutrients automatically balance your pH, so you have no reason to take any readings and make recordings. The Balance-free pH Perfect technology works 24/7 to adjust and calibrate the pH for you. It means you won't need to add pH regulating chemicals to your hydroponic system again.
Your pH perfect grow, micro, bloom-fed plants will benefit from a wide selection of beneficial amino acids. You'll see fantastic outcomes from the powerful non-ionic surfactant and fulvic acid. Both these ingredients are parts of a multiple-stage delivery matrix to ensure your crops absorb all the nutrients.
Besides the above nutrient delivery system, the formula has potent chelation which optimizes the bioavailability of all nutrients to the root systems of your plants. You can be sure that this nutrient base is excellent for your crops.
Pros
3-part nutrients provide lush, sturdy plant growth

Automatic pH regulation is intuitive and convenient

A formulation designed to increase absorption and nutrient availability to plant roots

Works with all hydroponic systems and even conventional soil-based methods

Great for beginners and even experienced hydroponic gardeners
Cons
Lacks adequate instruction on how to use

Could be a little bit costly for some gardeners
How to Choose a Hydroponic Nutrient
The growing popularity of hydroponic gardens has awakened nutrient-making companies to try to edge each other out. Such competition is great because you'll get the best products, prices could reduce, and you have a variety to choose from.
On the flip-side, the overwhelming number of brands can be confusing if you do not know what to look for in a hydroponic nutrient. You're lucky because that's what I'm going to share in this section. But first, let's answer some questions.
Should You Go for Liquid or Solid Hydroponic Fertilizer?
Major plant nutrients, including calcium and nitrogen, come in powdered form. The job of manufacturers is to combine these powders in appropriate ratios to get an optimal formulation of hydroponic plants.
Liquid fertilizers start as powdered nutrients comprising the different ingredients in their ideal ratios. The manufacturer adds a predetermined amount of water as well as other surfactants to allow you to mix them with the water in your nutrient reservoir.
So, which type of fertilizer is best for you? I would go with the liquid fertilizer for two reasons. One, it is already in the form of a liquid. All that's necessary is to measure the appropriate amount to add to the water in your hydroponic system.
Two, the liquid nutrient is optimally available to plant roots. Besides, the chances of having nutrient residues accumulate in the water are nearly impossible. After all, most brands offer liquid fertilizers that already have no residues in the packaging bottles.
The problem with liquid preparations is that they are more expensive than dry preparations because of shipping costs and storage. That's why it serves hydroponic hobbyists better than commercial farmers.
If you are a large scale farmer, powdered nutrients are the best. Although mixing them can complicate your work, such nutrients are cheaper to ship and store. Distributors have no problem delivering them in bulk.
Should You Use Organic or Synthetic Hydroponic Nutrients?
Agricultural technology has increased a lot. Today, manufacturers can formulate synthetic nutrients that are as effective as (if not more than) their organic counterparts.
Organic as used here means the active components of the nutrient are derived from natural sources such as animal waste or compost manure. Synthetic means the active elements come from chemical preparations created in the laboratory.
While organic nutrients have excellent safety profiles and many improve yield, you cannot be sure of the actual proportion of each active nutrient.
Conversely, the synthetic nutrient versions are chemical based and, therefore, may interfere with some plants. However, you are sure of the measure of vital minerals and macro-nutrients you are applying on your hydroponic system. You can easily track the way you feed your plants by giving them the same ratio of the crucial nutrients each time.
Some synthetic hydroponic fertilizers may improve yield, but you cannot be sure until you harvest your crops. But I'm confident you'll get better results because the delivery of nutrients will not be fluctuating. In other words, there will be no over- or under-delivery.
Is it Possible to Formulate Hydroponic Nutrients on Your Own?
It is possible if you have the guts to try. The most important skill you must have before you make such an attempt is research. Tons of information is available online, agricultural books, hydroponic journals as well as scholarly articles.
Use your research skills to concoct your own formulation. However, you might run into a few difficulties. First, you'll find it challenging to get the raw materials. Synthetic minerals such as calcium are almost depleted after years of mining for industrial use and whatever little that remains is rare and costly.
Second, you may not be able to measure and combine the elements in appropriate ratios. Any slight difference in the concentration of various components can lead to over- or under-delivery of crucial minerals. Any of these conditions will lead to the death of your plants.
Furthermore, you may end up with a barren hydroponic tray and toxic, less stable nutrient tank that is unusable unless you do something. You can either drain it entirely or buffer with a pH buffering solution in order to reuse.
What's the bottom line? Do not attempt to formulate your own hydroponic nutrients if you are not a professional. Otherwise, weigh your options before you make any decisions. If you get it right, you can have a very productive hydroponic garden.
Is it Necessary to Change the Nutrient Solution of Your Hydroponic System?
You'll do well to remember that the water in a hydroponic system does not just provide a growth medium for plants. The solution contains several beneficial micro-organisms that will also support the healthy growth of your crops.
It takes about six months for the solution to accumulate enough of the beneficial microorganisms. These bacteria will kill algae and fungi from growing in the medium and supporting the growth of your plants to maturity.
Therefore, it will be catastrophic to change water indiscriminately. Instead, use a more conservative approach. Add water only when necessary and if you must remove, do not drain more than 25 percent of the original amount nutrient solution.
Considerations for Choosing a Hydroponic Nutrient
Type of Nutrient
You'll need to choose between liquid or dry hydroponic nutrients. Each has its advantages and disadvantages that I discussed earlier. Buy liquid nutrient if you are a hydroponic hobbyist. Dry nutrients that come in bulk are better for commercial hydroponics.
The Number of Components
Hydroponic nutrients come as one-part or multiple parts.
The one-part nutrient system means it comes as a single formula that you need to mix with the right amount of water to form a nutrient solution. It makes your work more comfortable, but it's only suitable for general use. You cannot customize it to plant needs during different growth stages.
Multi-part nutrients come as a 3-part system comprising of three different formulations. All you need to do is mix different components of the formula at your desired ratios. Or, you can use unique formulations through the various stages in the plant growth cycle.
Multiple part system requires that you know much about your plants and their changing nutrients wants. If you get it correct, customization can help boost the productivity of your hydroponic garden several folds.
pH Regulation
pH (or potential for hydrogen) determines the acidity or alkalinity of your hydroponic solution. It, in turn, determines how well your plants and microbes can use nutrients. You'll need to test the nutrient solution frequently (perhaps every day) to check the pH levels and make the appropriate adjustments.
The most hassle-free way to go about it is to use a pH pen or an EC (electricity conductivity) meter. An EC-meter helps you to evaluate the concentration of all the components of the nutrient solution. Some smart companies have managed to develop a device that can help you monitor both the pH and EC of the nutrient solution.
If you want the easiest way out, then choose a hydroponic fertilizer with the ability to buffer the pH level of nutrient water against dropping too low or rising too high upon applying them. The top-quality brands such as the ones I have reviewed offer this service.
Final Verdict
It is beyond any shadow of doubts that a quality hydroponic nutrient can increase your productivity. However, choosing the best hydroponic nutrient shouldn't be a tall order for you if you follow our guide.  If by now you have not identified one, you can go back and see if you might have missed something. If chosen properly, all the products reviewed above can be an excellent pick for your garden. Hopefully now you have a better understanding of the best hydroponic nutrients available.