Best Rear Tine Tiller Review
A rear tine tiller is an essential gardening tool. It's used for breaking rough, compact ground in mid- to large-size gardens. The main difference between this tool and the common garden tiller is the position of the blades, which are placed at the back of the machine.
As the engine pulls the tines, the rear tine tiller can dig deeper into the ground; a characteristic that makes it perfect for hard, compact soil.
Now, you're probably wondering which is the best rototiller for your garden. With so many models out there and so many features to consider, picking the right machine can be overwhelming.
That's why we did the hard work for you, searching and reviewing the best rear tine tillers on the market.
Best Rear Tine Tiller Review
Image
Product Name
Our Rating
Price
YARDMAX Dual Rotating Rear Tine Tiller
Five Stars

*****

$749.99

Southland SRTT212 Rear Tine Tiller

Five Stars

*****

$870.45
Champion Rear Tine Tiller 
Five Stars

*****

$887.03

EARTHQUAKE 39381 Victory Rototiller Tiller

Four Stars

****

$823.99
Mech Marvels 212cc Rear Tine Tiller
Four Stars

****

$849.15

Husqvarna  Counter Rotation Rear Tine Tiller 
Top 7 Rear Tine Tiller Reviews
1. YARDMAX YT4565 Rear Tine Tiller
| | |
| --- | --- |
| Brand: | YARDMAX |
| Engine: | 208CC |
| Tilling depth: | 6.5″ |
| Tilling Width: | 18″ |
| Our Rating: | Five Stars ***** |
| Warranty: | 2-Year Residential and 90-Day Commercial |
| Price: | $749.99 |
Choose the YARDMAX Dual Rotating Rototiller for maximum power, maximum value, and maximum support. This sturdy machine combines practicality and performance to deliver a service beyond expectations and is perfect for both homeowners and professionals.
The YARDMAX garden cultivator is a true dual-rotating rear tine tiller that provides flawless groundbreaking power as well as garden preparation of any soil type. It features forward rotation ideal for cultivation and reverse rotation for deeper soil tilling.
The tool gets its power from 208cc, Briggs & Stratton engine that delivers an incredible 9.50 ft-lbs gross torque and a 190-revolution per minute rotational speed. Such power, coupled with heavy-duty, durable YARDMAX transmission featuring self-propelled drive system, results in a powerful forward movement and a single reverse gear for effortless control.
The machine's 18-inch wide rear tine design with seven depth adjustments as well as a 6.5-inch working depth ensures fast ground coverage. Your work will be made even easier thanks to the 13-inch self-sharpening tines.
YARDMAX YT4565's improved handling make it easy to use. It features one-hand operation, and you can stand and steer on either side of the cultivator. There is also an easy to adjust drag bar for improved balance in all conditions. For further balance and handling, the tiller comes with a front counterweight on 13-inch pneumatic wheels with AG tread tires.  Adjustable serrated rear and side shield enhance performance and safety.
Pros
Powerful 208cc Briggs & Stratton engine

Covers wider ground for more efficient tilling

Easy to use tool with improved balance

Dual rotation for deeper cultivation

Safety shields for secure operation

The counterweight on wheels offers more balance and handling
Cons
May not be heavy-duty enough for breaking the virgin soil

Front metal edges could harm the operator
2. Dirty Hand Tools Counter-Rotating Rear Tine Tiller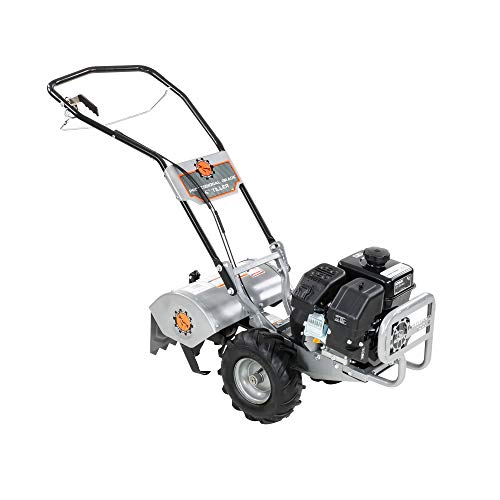 | | |
| --- | --- |
| Brand | Dirty Hand Tools​​​​ |
| Engine | 196cc |
| Tilling depth | 10″ |
| Tilling Width | 16″ |
| Our Rating | |
| Warranty | 2 year limited warranty​​​​ |
| Price​ | |
This counter-rotating rear tine tiller with reverse from Dirty Hand Tools is what you need for a large garden. It's powerful a 6.5 HP 196cc Kohler SH265 engine provides enough power to tear through hard and compacted soil. Even virgin soil cannot stand its power.
Such power means this rear tine tiller is perfect for you, whether you are an amateur, home, or professional gardener. If you care about the environment, then you'll be glad to know the engine is EPA/CARB approved.
With 16-inch tilling width, 10-inch tilling depth, and 240 RPM tine speed, you can be sure to complete the job faster than with ordinary tillers. The machine has both neutral (disengaged) and forward (engaged) transmissions.
The transmission uses V-belts currently known to be the best in ensuring the machine works perfectly without slippage. You can be sure of a powerful forward movement and convenient maneuverability.
The 12-inch diameter pneumatic tires with treads ensure the tiller can handle all types of terrains and soil types with ease. It will not skid or even get stuck on muddy clay soil.
In terms of strength and durability, the machine is well coated and features heavy steel. Such construction means the device may serve you longer than you plan to practice gardening.
Pros
Powerful 6.5 Horse Power 196cc Kohler engine

Smooth neural and forward transmission

Easy and fast to assemble and use

Wide tilling width for expedited ground coverage

Motor runs very quietly
Cons
A further qualitative test is necessary

Certain parts of the machine do not meet the quality requirement
 3. Southland SRTT212 Rear Tine Tiller
| | |
| --- | --- |
| Brand | Southland​​​​ |
| Engine | 196cc |
| Tilling depth | 10″ |
| Tilling Width | 18″ |
| Our Rating | |
| Warranty | 2 year limited warranty​​​​ |
| Price​ | |
The SRTT212 Rear Tine Rotary Tiller by Southland is an excellent choice for virtually any job, from light tilling to gardening to compacted groundbreaking tasks. The machine's great power and efficiency lie in its 10.3 ft/lbs four-stroke OHV engine.
Its gear-drive system is capable of providing optimal engine and fuel efficiency, which means your machine will run on lower power input compared to other models. The gas-powered engine lets you till the massive ground in an expedited manner.  Thus, the SRTT212 will help you complete the job fast and efficiently yet remain a breeze to maneuver.
You'll love the digging depth of this machine provided by its 11-inch counter-rotating tines designed to dig deep into the ground to get rid of stubborn weeds and that allows efficient upturning of fresh soil. Such digging depth combined with the large 18-inch tilling width allows the rear tine tiller to cover a large surface in a single pass without hindering maneuverability. You can even make sharp turns effortlessly.
In addition to these features, the rototiller has 13-inch heavy-duty, pneumatic tires that ensure stability even over rough and rugged terrains. Another useful feature is the folding grip handles for easy and convenient storage. To further ease portability, the tiller features a front bull bar that makes it easy to lift the machine onto a trailer or truck.
Pros
Strong and efficient gas-powered engine

Eco-friendly and fuel-efficient rototiller

Works faster to till large grounds

Digs deep (11 inches) to remove weeds

User-friendly handles and easily portable design
Cons
Manual recoil start may be a challenge to some users

Durability is not guaranteed since the machine is relatively new
4. Champion Rear Tine Tiller 
| | |
| --- | --- |
| Brand​​​​​ | Champion |
| Engine | 212cc |
| Tilling depth | 8″ |
| Tilling Width | 19″ |
| Our Rating | |
| Warranty | 2 year limited warranty |
| Price​ | |
Champion 19" Rear Tine Tiller is a versatile machine boasting 19-inch tilling width and 8-inch tilling depth. Like the YARDMAX, it delivers dual rotation which allows you to switch seamlessly from forward to reverse mode, for more flexibility in your garden.
It features a cast-iron, gear-operated transmission housed in a compact, heavy-duty casing and driven by a 212cc engine. The engine and gear system offer enough power to tear through even the most compact soil, including virgin grounds. Sod and grass cannot stand on its way. You will also like the tiller's 13-inch agricultural tires.
This self-propelled is easy to operate effortlessly over uneven and rugged terrains, moving fast so that  you can achieve more in less time. Indeed, this is one of the few models equipped with self-propelled agricultural tires; a feature that sets this rear tine tiller apart from its competition.
The tiller is equipped with four heavy-duty 13.5-inch tines made of hardened steel and engineered to manage even the toughest soil with minimal effort. The machine comes with Champion's 2-year limited warranty which includes free lifetime technical support from qualified and dedicated technicians.
Pros
A highly versatile tool

Powerful engine and gear-driven transmission

Efficient 13-inch self-propelled agricultural tires

Dependable 13.5-inch hardened steel tines

2-year limited warranty with free lifetime support
Cons
Needs some effort to power forward

Requires further testing
5. EARTHQUAKE 39381 Victory Rototiller Tiller
| | |
| --- | --- |
| Brand​​​​​ | Earthquake |
| Engine​​​​ | 209cc Viper |
| Tilling depth | 10″ |
| Tilling Width | 16″ |
| Our Rating | |
| Warranty | 5-year Product |
| Price​ | |
The Earthquake Victory 39381 Rototiller delivers full-sized power in a compact frame, and it's just perfect for smaller to mid-size gardens. It provides a wide range of features, such as easy one-hand control through the sod and balanced maneuverability in the row.
A reliable 209cc viper engine offers sufficient power for most tasks. The 10-inch tilling depth and 16-inch width also ensure convenient tilling in most gardens.
The Earthquake rototiller provides only reverse and forward gear option. It means you cannot adjust the tiller for power or speed. But the reverse gear offers easier tilling since you just walk back when you reach the end of the garden. It will eliminate the need to lift the machine up and turn it the opposite direction. The tines counter-rotate for more efficient tilling.
Pros
Impressive balance and stability offer safety and ease of use

Agricultural tires for maximum traction on all soil types

Vertically adjustable handlebar for comfort and convenience

Powerful engine with high torque for all terrains

Reverse gear eases and expedites tilling

Counterweights provide superior control
Cons
Manual start but an electric start would be better
6. Mech Marvels 212cc Rear Tine Tiller
| | |
| --- | --- |
| Bra​​​​nd | Mech Marvels |
| Engine | 212cc |
| Tilling depth | 8″ |
| Tilling Width | 18″ |
| Our Rating | Five Stars ***** |
| Warranty | ​ |
| Price​ | $849.15 |
If you need a machine for lighter duty jobs, then the Mech Marvels 212cc Rear Tine Tiller might be it. It features 8-inch deep steel tines that counter-rotate to provide soil-pulverizing power regardless of what type of soil you're trying to break.
This rear tine tiller uses a 212cc engine which delivers exceptional power and fuel efficiency for a long-lasting service. It is CARB-compliant; thus suitable to operate in all jurisdictions.
The secret to Mech Marvels high performance is the heavy-duty sealed chain transmission featuring power reverse mode. The forward and backward capability offers efficient tilling, while the powerful and durable design allows for easy transport.
You'll also like the engineered tires designed for all types of land. While the tilling depth is rather on the low side, you still get 7 depth adjustments and an 18-inch tilling swath. Rugged and dependable, this is certainly the right rear tine tiller for most homeowners.
Pros
Versatile counter-rotating tines

A 18-inch tilling width and adjustable tilling depth

212cc engine runs cool and efficient

Adjustable depth stake allows you to control tilling speed and depth
Cons
Quite expensive but it's worth your investment
7. Husqvarna Counter Rotation Rear Tine Tiller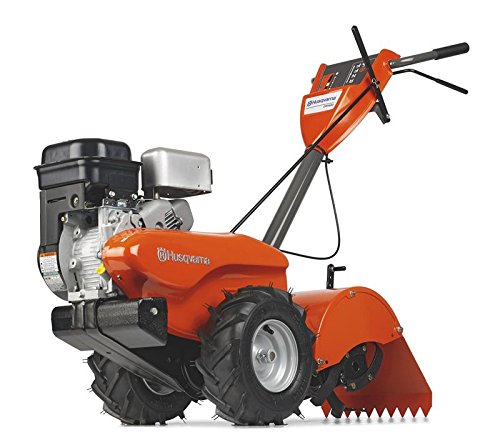 | | |
| --- | --- |
| Brand | Husqvarna |
| Engine | 205cc |
| Tilling depth | 6″ |
| Tilling Width | 14″ |
| Our Rating | |
| Warranty | ​ |
| Price​ | |
Husqvarna Counter Rotation Rear tine tiller is a great option if you prefer a heavy-duty unit to handle more demanding tasks. It offers more power than other entry-level units and is an excellent choice despite the slightly higher cost. Each of its components is built for long life and optimal performance in all types of soil.
It comes with an easy to start 205cc Briggs & Stratton engine that has enough power to chew through compacted soil, sod, and grass. A counterweight feature aims at enhancing the weight on wheels for improved balance, stability, and safe operation. This feature also ensures it works perfectly on uneven or rugged terrains.
The machine features counter-rotating tines for deep-digging or preparing the ground for cultivation. The forward and reverse capability means enhanced control and maneuverability. Beginners have no reason to worry because of the ease of use provided by these unique features.
At 14-inch tilling width and adjustable tilling depth, you can be sure the machine will do the job fast and efficiently. It is equipped with Chevron tires to ensure maximum grip and improved traction on different terrains.  It is enough to say that this Husqvarna rear tine tiller is one of the most powerful, smooth to drive and well-balanced rototillers currently in the market.
Pros
205cc Briggs & Stratton engine for heavy tasks

Several adjustment depths for tilling versatility

Counter-weight on wheels for better balance and traction

Reverse gearbox offer improved maneuverability and control

Chevron tires offer optimal traction and grip
Cons
Pricier than other models in its category

The handle needs better wielding
Things to Consider Before Buying a Rear Tine Tiller
While our choices above are all worthy investments, you might find it challenging to decide for which to go if you don't know exactly what to look for. To help with your decision-making, we put together this guide that'll show you all the important things you should consider before dropping your hard-earned money.
Engine 
The engine is the lifeline of any machine. Tine tillers are not different. A faulty engine means less than optimal performance for your tool. In choosing the right rototiller, consider its engine.
You can typically choose between 2-stroke and 4-stroke engines. As the name suggests, the two-stroke engine is a type of internal combustion engine that completes its power cycle in two cycles (up and down movements) of the piston following a single crankshaft revolution. Such engines have a high power-to-weight ratio.
The downside of the 2-stroke engine is that it produces more emissions than a 4-stroke model. This is because it uses a mixture of gas and oil for lubrication. Furthermore, the engine is quite noisy. However, this type of engine is impressively powerful.
The 4-stroke engines operate quietly, are more fuel-efficient and very reliable. The engine features internal combustion but completes its power cycle in four strokes (intake, compression, power, and exhaust). There is a separate tank for gas/fuel and chamber for lubrication oil.
This prolongs engine life and ensures more efficient fuel consumption. Furthermore, this type of engine is incredibly eco-friendly.  For this reason, most high-quality rear tine tillers have 4-stroke engines.
Tilling Width and Depth 
The tilling depth is the primary determinant of how fast you will complete your job. Rear tine tillers with higher tilling width work more quickly. It is because they will shred more ground with each pass. However, tillers with a too large tilling width may be difficult to control. It would be wise to go for a balance between breadth and controllability of the machine. We would recommend a tilling width between 17 inches and 18 inches for mid- to large-size gardens and smaller if you have a small garden or want to till between the rows
Many modern rear tine tillers also feature adjustable tilling depth. But, some models will dig deeper than others. The major determinant of tilling depth is the growth characteristic of each seed. Certain seeds may need various soil depths to grow well. It is, therefore, recommended to buy a rear tine tiller that offers at least 5 or six depth adjustments, up to at least 10 inches deep.
Tine Rotation 
How tines rotate has a bearing on soil aeration. Counter-rotating tines are the most efficient. They stabilize the machine and allow for better control. Standard (forward) rotating tines may also shred rocky compacted soil with ease. The other type is dual rotating which feature both forward and counter-rotating mechanisms. Choose a counter-rotating tine model if the kind of earth in your garden is predominantly clay.
Electric vs Manual Start 
Manual start involves pulling a cord to start the engine. Most traditional rear tine tillers feature manual start. However, modern models usually come equipped with electric starters. The latter allows you to start the engine with a simple push of a button. However, a hassle-free start is likely to cost you a few hundred dollars more; in the end, it all comes down to your budget and preference.
Tires Quality and Size
The tires of any tine tiller are the significant determinants of its control. They also determine the maneuverability of the machine. Good tires make the machine easy to control and maneuver. They should have excellent flotation and traction on all types of terrains. Tires with good treads will grip clay soil well. Good quality tine tillers have pneumatic tires of at least 13-inches.
Handlebars 
Tine tillers can have either fixed or adjustable handlebars. Adjustable handlebars give users the flexibility to adjust the handle to their height. It improves maneuverability and comfort during extended use. Models with fixed handlebars are not as flexible, but they may last longer.
Transmission 
If you want to get your hands on the best rear tine tiller, make sure to get one with forward and reverse gears. Those models lacking reverse gear may get into trouble should the machine get stuck. High quality and often high price tag models also feature variable speed. We would not  advocate for those models, though. The must-have feature of an ideal rototiller is neutral gear, as it makes the machine easy to transport.
Rear Tine Tiller Accessories
Rear tine tillers can use many accessories to widen their scope or boost their performance.
Keep in mind that some models only accept accessories manufactured by the same brand. Checking for compatibility before buying any accessory is crucial.  A few useful accessories include:
Furrower Kit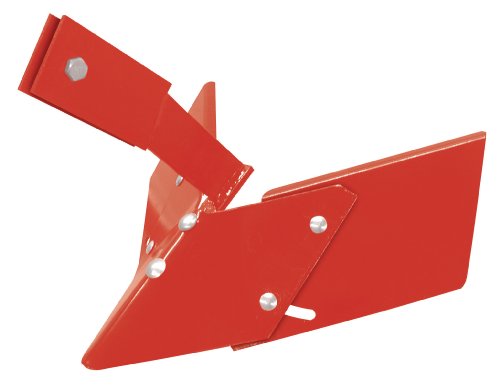 Once you have given your garden a thorough and satisfactory till use a kit. This accessory allows you to save time by designing uniform, deep planting rows that are seed or seedling ready.
Rototiller Cover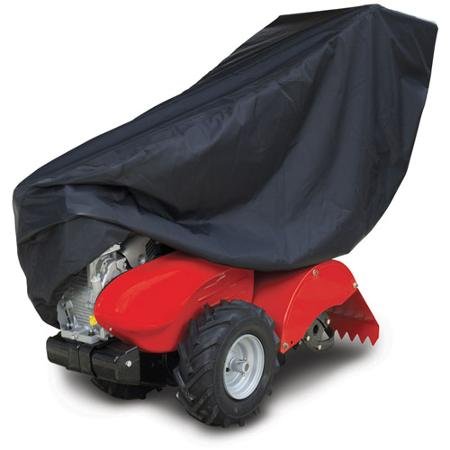 A rototiller cover keeps dirt, water, debris, as well as other negative environmental elements out of the motor. The best cover should be made from a water-resistant material.
Conclusion 
I hope you now know which are some of the best rear tine tillers and that you know what to consider before choosing one.
Remember, only a high-quality rototiller can handle all types of terrain.
So, what do you say? Did you find the best rear tine tiller for you on this list?
Tell me in a comment below; we'd love to hear from you.
And before you go, don't forget to share this article with your friends. It might help them too. Thank you for reading Best Rear Tine Tiller Review
You may also be interested in reading: