The Best Battery-Powered String Trimmers: Cutting-Edge Performance for Your Lawn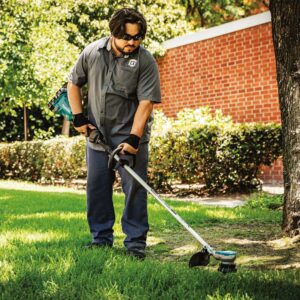 Maintaining a well-manicured lawn is a point of pride for many homeowners. But it often requires the right tools to make the job efficient and enjoyable. One essential tool for lawn care enthusiasts is the string trimmer. A string trimmer helps you keep those edges neat and the grass around obstacles like trees and fences in check. Gone are the days of dealing with fumes, cords, and noisy gas-powered trimmers; the era of battery-powered string trimmers has arrived. In this article, we will explore some of the top battery-powered string trimmers on the market in 2023. Highlighting their features, performance, and why they stand out as the best choices for maintaining your lawn.
The EGO Power+ ST1520S is a popular choice for homeowners and professionals alike. It is renowned for its incredible power and battery life, thanks to its 56V lithium-ion battery. This trimmer can tackle even the toughest grass and weeds with ease. One of its standout features is the rapid reload head, which allows you to change the line quickly and efficiently. With a 15-inch cutting swath, adjustable handle, and weather-resistant construction, the EGO Power+ ST1520S is designed for durability and comfort.
Greenworks is known for producing high-quality, eco-friendly outdoor power equipment, and their Pro ST80L210 string trimmer is no exception. Powered by an 80V lithium-ion battery, it offers exceptional runtime and performance. This trimmer has a 16-inch cutting width, which makes it ideal for larger yards, and it also features a split shaft design for easy storage. Greenworks is celebrated for its commitment to sustainability. And this trimmer is no different, as it produces zero emissions and minimal noise.
Makita has a strong reputation for manufacturing professional-grade power tools. And their XRU15PT1 string trimmer is a testament to their dedication to performance and durability. This trimmer is powered by two 18V batteries, providing a total of 36V of power. It features a brushless motor for increased efficiency and longer runtime, along with an adjustable telescoping shaft and a 15-inch cutting swath. The Makita XRU15PT1 is perfect for both residential and professional use.
DEWALT is a trusted name in the world of power tools, and their DCST970X1 string trimmer is no exception. This trimmer is part of the company's 60V MAX FLEXVOLT system, which means it can deliver exceptional power and runtime. With a 15-inch cutting swath and a variable speed trigger, it allows you to tailor your cutting performance to your specific needs. The DCST970X1 is known for its robust construction and ergonomic design, making it comfortable to use for extended periods.
For those seeking a more budget-friendly option, the Black+Decker LST136 offers excellent value without sacrificing performance. Powered by a 36V lithium-ion battery, this trimmer can tackle common yard maintenance tasks with ease. It features a 13-inch cutting swath, a PowerCommand dial for adjusting power and runtime, and a lightweight design for easy maneuverability. The LST136 is a great choice for smaller yards and those looking for a cost-effective solution.
Conclusion
Battery-powered string trimmers have come a long way in recent years. They are offering a viable alternative to gas-powered models without sacrificing performance. The best battery-powered string trimmers on the market in 2023 offer impressive power, runtime, and versatility. Whether you have a small suburban lawn or a larger property, there's a battery-powered trimmer to suit your needs. The EGO Power+ ST1520S, Greenworks Pro ST80L210, Makita XRU15PT1, DEWALT DCST970X1, and Black+Decker LST136 are all top contenders in this category. And your choice should depend on the specific requirements of your lawn and your budget. Say goodbye to noisy, polluting gas trimmers. Enjoy the freedom and convenience of a battery-powered string trimmer for a well-kept and environmentally friendly lawn. Thank you for reading "The Best Battery-Powered String Trimmers: Cutting-Edge Performance for Your Lawn." Here are some other articles you may enjoy reading.