Best Tow Behind Sprayer for your Garden and Lawn
Maintaining a well-manicured lawn or garden is no easy task. Luckily, the best tow behind sprayer can help you cut off the manual labor.
This versatile piece of equipment can be used for applying fertilizer, watering the plants, or spraying pesticides and herbicides.
When it comes to picking one, the market offers a bountiful range of choices. To help you out, we put together this list of the top-rated tow behind sprayers. Check them out below.
| Image | Product Name | Capacity | Price |
| --- | --- | --- | --- |
| | NorthStar Tow-Behind Boom Broadcast and Spot Sprayer | 21 Gallon | $279.99 |
| | Ironton Tow-Behind Broadcast and Spot Sprayer | 13 Gallon | $169.99 |
| | NorthStar Tow-Behind Boom Broadcast and Spot Sprayer | 31 Gallon | $349.99 |
| | Agri-Fab 45-0587 Tow Sprayer | 15 Gallon | $321.03 |
| | Agri-Fab 45-0588 Professional Tow Sprayer  | 25 Gallon | $439.99 |
| | Chapin Dripless Fertilizer, Herbicide and Pesticide Sprayer | 15 Gallon | $348.80 |
| | NorthStar 61-Gallon Tow-Behind Sprayer | 61 Gallon | $1029.99 |
Top 7 Tow Behind Sprayer Reviews
1. NorthStar Tow-Behind Sprayer (21 Gallon)
The first entry on our list, this model from NorthStar can satisfy the needs of most homeowners. It has a capacity of 21 gallons and provides 2.2 gallons per minute open flow.
Equipped with a 12V NSQ Series on-demand pump, it's a perfect choice for fertilizing or watering your lawn. The pump is also easy to use thanks to its intuitive, fast priming; outputting up to 70 PSI; it's also perfect for spreading herbicides and insecticides.
A thing that makes this sprayer stand out is the proprietary tank that's UV- and chemical-resistant.
This sprayer is also perfect for high-coverage applications thanks to its continuous duty rating. Indeed, the pump needs no cool-down period, so you can continue spraying for as long as you like.
Larger than average yet compact enough for easy storage, the sprayer comes with a retractable tow bar, foldable arms, and removable axle and wheels. Compatible with lawn tractors, riding lawn mowers, and ATVs, it's a perfect choice for mid-sized to bigger lawns.
Pros
Precision and wide-coverage spraying

Compatible with all pesticides

On-demand pump

Honeywell micro switch

Santoprene diaphragm and Viton valves
Cons
12V cord is on the short side

Valves may leak when shut off
2. Ironton Tow-Behind Sprayer
Similar to the NorthStar but smaller, the Ironton broadcast and spot sprayer is a more appropriate choice for a small to mid-size lawn. It has a capacity of 13 gallons and comes with a 1-gallon per minute pump.
Made from durable material, the tank is UV-resistant and compatible with all pesticides. Ideal for dealing with pests and weeds, watering or fertilizing. Gallon marks molded into the tank make it easy to monitor the fluid level regardless of the application.
Approved for use with agricultural herbicide, this sprayer is an excellent choice for gardeners as well.
Thanks to its 7.5-inch opening, it's also easy to open and fill. Another nice thing is the easy-empty bottom drain that allows for easier emptying of the tank.
Easy to two on all terrains thanks to the 10-inch pneumatic wheels, the sprayer also comes with a built-in hanging bracket for easy storage.
Pros
Easily adjustable spray gun nozzle

Wide spraying area

Remote switch with battery clips

PVC hose with braided synthetic cord

40-inch effective broadcast width
Cons
Short warranty period

Sprayer hose is a little too short
3. NorthStar Tow-Behind Sprayer (31 Gallon)
If you liked our top pick but need something bigger, check out this 31-gallon tow-behind broadcast and spot sprayer by NorthStar. It shares all features with its brother above, apart from the size.
This sprayer is suitable for big properties, be it lawns or vegetable gardens. Like the 21-gallon above, it comes with an on-demand pump that outputs up to 70 PSI.
Easy to tow on all terrains, it comes with oversized wheels, and it's easy to attach to a riding mower, lawn tractor, or ATV.
It comes at an excellent price for its size, and it can undoubtedly bring exceptional value for money.
Pros
Proprietary tank design with extra-thick walls

Easy to control the spray direction

Easy filling and draining

Honeywell micro switch for enhanced durability
Cons
Some plastic parts feel flimsy
4. Agri-Fab 45-0587 15 gallon Tow Sprayer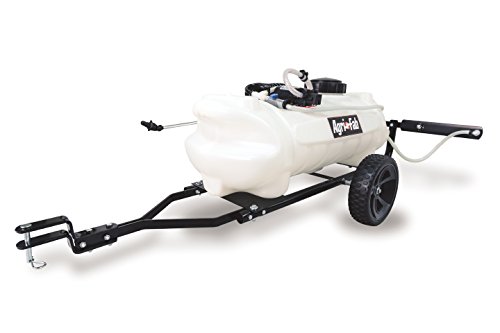 Agri-Fab is renowned for the quality of its tow-behind equipment. This sprayer is no exception, and it can surely satisfy with its features.
It has a 15-gallon capacity, just what you need for a smaller lawn or vegetable garden. Its flatter design makes it easy to store on hanged on a wall, while the flat-free tires allow for easy rolling on all terrains.
Two spray tips allow for a wide 7-foot coverage; furthermore, the convenient hand-held wand allows for spot spraying up to 30 feet.
The quality of the tank is also exceptional. You can use it with most lawn and garden care chemicals, and you can expect dependable performance. We also like that it's backed by a 3-year warranty and that it's made in the USA.
Pros
Easy to drain leftover liquids

Universal hitch allows for use with any brand of tractor

Maneuverable non-flat tires
Cons
Expensive for its size

Spray width a bit narrow
5. Agri-Fab 45-0588 Professional 25 gallon Tow Sprayer
Professional landscapers will surely appreciate this professional tow sprayer by Agri-Fab. It's not the biggest out there, but it impresses with its exceptional quality.
Ideal for applying herbicides, pesticides, and other lawn products, it's made from high-quality plastic and is compatible with most chemicals. However, its 1.8 gallons per minute output doesn't make it the most powerful out there.
Indeed, some semi-professional options have higher outputs; that's not necessarily a downside for all applications, but it could be if you plan to use this sprayer professionally.
Like most Agri-Fab products, this sprayer is not the cheapest. Nevertheless, it's a great investment if you need a high-quality, durable equipment.
Pros
All-terrain pneumatic rib-tread tires

15-foot hand-held spray hose with wand

Covers up to 80 inches wide

3-year limited warranty

Made in the USA
Cons
The sprayer doesn't have adjustable pressure

Hose clamps may leak

Rather complicated instructions
6. Chapin Dripless Fertilizer, Herbicide and Pesticide Sprayer
Another tow behind sprayer that has made it to our list is this one from Chapin. This dripless sprayer is suitable to use with most fertilizers, herbicides, and pesticides, or you could simply use plain water if you only want to water your plants.
Boasting a solid construction, the tank impresses with a poly tank that's stronger than plastic. The trigger is also made of poly, while the extension wand is made of brass. Ideal for smaller lawns, it also has a high-performing 12-volt diaphragm pump and dual filtration system.
The professional dripless shut-off system and comfort grip lock enhance the value for money.
The only slight downside is the rather short hose, but at least it's reinforced. Indeed, the hose is only 15 feet long. However, we like the 7-foot wide spray boom coverage.
An adjustable hitch makes it suitable to use with most vehicles, while the durable steel frame and solid pneumatic tires add robustness and stability on all terrains.
Pros
High-quality brass wand

High-performing pump and filtration system

Comfort grip with lock-off feature

15-gallon translucent tank

Compatible with most fertilizers, pesticides, and weed killers
Cons
The tires are quite easy to puncture
7. NorthStar 61-Gallon Tow-Behind Sprayer

Last entry on our list, this one from NorthStar is ideal for professionals or homeowners who need to fertilize big gardens or lawns. It has a capacity of 61 gallons and comes mounted on a sturdy frame that tows behind most vehicles.
An exceptional 32-foot spray width allows for quick coverage of even the biggest properties.
Made for commercial use, it also comes with a reliable pump that outputs up to 7 gallons per minute. Adjustable pressure and a dependable for ease of use.
This sprayer can resist most chemicals as well as UV light; a reinforced polyvinyl chloride hose also allows for spot spraying and lets you monitor the chemical flow easily.
Surely not the cheapest out there but outstanding for heavy-duty use, this is the best tow behind lawn sprayer for landscapers and professional gardeners.
Pros
High torque engine

Big pump with adjustable pressure

No boom arms

Reinforced hose and extra-thick tank

Heavy-duty frame
Cons
How We Chose Our Selection of Best Tow Behind Sprayers
Picking a tow behind sprayer is not easy. There are quite a few things to think about. When we made our selection, we considered:
Durability

:

Tow behind sprayers don't necessarily cost an arm and a leg, but the durability of the product is still the first thing to consider. We only included those sprayers made from heavy-duty materials and that have minimal manufacturing flaws.

Brand

:

A brand name is not always a guarantee for the quality. However, known brands offer better customer support than the "no-names;" furthermore, spare pieces are also easier to find. If you have issues with your product, a service is most likely to help if you own a popular type of sprayer.

Value

:

Lastly, we considered the product's value for money. We included both residential and commercial models on this list. Prices may vary, but regardless of your choice, you'll most likely be satisfied with your purchase.
Features to Look For In Tow Behind Sprayers
Beyond our objective criteria highlighted above, there are a few things that only you can determine. When buying a tow behind sprayer, you should consider the following:
Size

:

Tow behind sprayers come in a wide range of sizes; from small 15-gallon units to big 61-gallon or over, the market offers a bountiful range of choices. What's the best tow behind weed sprayer for you will ultimately depend on your needs. For a smaller yard of up to 2 acres, a smaller sprayer would suffice. For anything larger, you might want to look into the bigger units.

Pressure

:

Expressed in PSI, the pressure determines the efficiency of your system. Aim for at least 70 PSI, or your sprayer might not be powerful enough to direct the mist where you most need it.

Output

:

Another important thing to check is the output. Residential sprayers may have lower outputs of 2 gallons or less. Heavy-duty sprayers usually exceed an output of 7 gallons. The choice should be based on the type of application. For residential purposes, lower output usually means a lower price too.

Spray width

:

There are few rules to follow here. If you want to finish your chores as quickly as possible, opt for the wider swath available in the range you're interested in.

Hitch

:

Most tow behind sprayers come with universal hitches, but don't take it for granted. The easiest way to tell whether or not you'll be able to hitch it to your vehicle is by checking the compatibility before buying.

Tires

:

Another important thing to consider are the tires. The pneumatic kind increases stability, but they can puncture. If you want to avoid surprises, no-flat tires could be a better choice. Keep in mind, though, that they are harder to maneuver.
Conclusion
What is the best tow behind sprayer is ultimately down to you. Consider the size of your lawn and your needs. Do you want a unit for occasional fertilizing or weeding, or one to use daily for watering?
In the former hypothesis, a smaller sprayer could suffice. For watering purposes, maybe a unit with a bigger tank could be a better choice.
So, what do you say? Did you find the right tow behind sprayer for you on this list?
Tell us in a comment. We'd love to hear from you.
And if you liked this article, don't forget to share it with your friends. Who knows? You might help them find a tow behind sprayer too.