Sale!
Description
Blue Wonder Toad Lily
(Hardy Japanese Lily)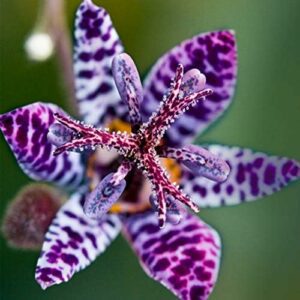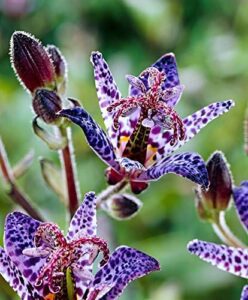 The Hardy Japanese Lily, also known as Lilium japonicum, is a stunning perennial plant that showcases elegant and exotic blooms. Originating from Japan, this lily species is well-adapted to various climates and can thrive in colder regions, making it a popular choice for gardeners seeking a touch of Asian-inspired beauty.
The Hardy Japanese Lily features upright stems adorned with lance-shaped leaves that provide an attractive backdrop to the main attraction—the flowers. The blooms of this lily are breathtaking, typically displaying shades of creamy white, soft pink, or pale yellow, often with darker speckles or patterns on the petals. The petals have a slightly recurved form, giving the flowers a graceful appearance.
One of the notable characteristics of the Hardy Japanese Lily is its delightful fragrance. The flowers exude a sweet and alluring scent that can fill the air, adding an extra sensory dimension to any garden or floral arrangement.
This lily species is known for its hardiness and ability to withstand cold temperatures. It typically blooms in the summer, producing large, showy flowers that attract butterflies and other pollinators. With proper care, including well-draining soil, ample sunlight, and regular watering, the Hardy Japanese Lily can flourish, bringing an exquisite touch of elegance and fragrance to gardens, borders, or containers.
Whether you want to enhance your garden's aesthetics, create a stunning floral display, or simply enjoy the captivating fragrance, the Hardy Japanese Lily is a choice that combines beauty, resilience, and a touch of Japanese allure.
Only logged in customers who have purchased this product may leave a review.