Sale!
Description
Alocasia African mask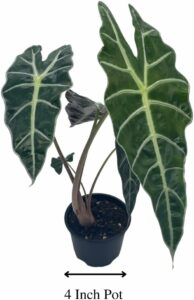 Alocasia Polly is quite a striking plant. From its arrow-shaped leaves to its bold coloring, many get attracted to having it has their houseplant. It is simply hard to ignore this tropical plant.
This plant thrives under bright shade, meaning it can receive lots of light, but it does not have to be direct sunlight. In fact, watch out for sun burn marks and move the plant accordingly. It also only needs to be watered when the soil is completely dry. You can feel the dirt for moisture or feel the weight of the pot.
This plant also likes to be kept moist but not soggy. Alocasia Polly is native to the South Pacific, particularly in the Philippines. Taking care of it is of medium difficulty, so it needs just a bit of attention to thrive.
Only logged in customers who have purchased this product may leave a review.