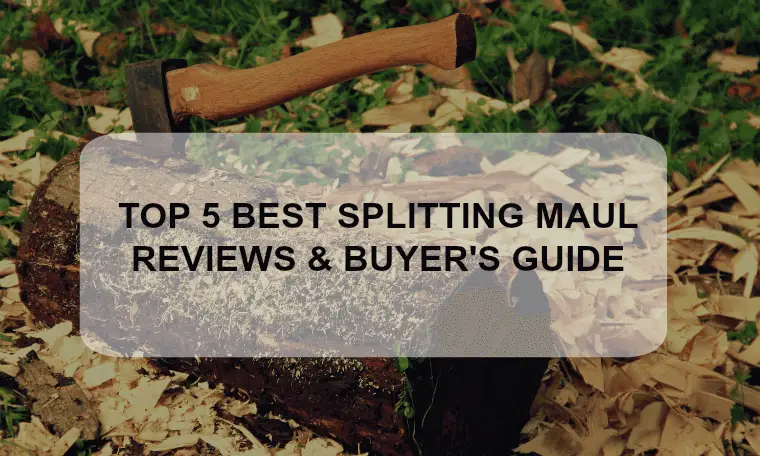 Best Splitting Maul – Buyer's Guide & Reviews
---
Living in cold environments presents certain challenges. When the chill bites, you need a heat source to warm you up. A great heat source would be a fireplace. But fire needs fuel to burn continuously. Wood forms the best fuel for fireplaces. This means you need a constant supply of wood to ensure you do not suffer the terrible effects of cold weather. What can guarantee you constant wood supply? The answer would be the splitting maul currently in the market.
I believe some people cannot tell the difference between a splitting maul and a splitting axe. I too was confused when I first saw this tool. A splitting maul is essentially a type of an axe that cuts logs along the grain (the inside of the tree). An axe such as felling axe or camp axe cuts logs against the grain (cutting into the back). The mauls are heavier with clear wedge-shaped heads and longer handles. You swing the maul downwards unlike an axe that you swing across to fell a tree.
Should you buy just any splitting maul you find in the store because you can afford it? I guess not. You really need the best the market has to offer. You will be buying a high-quality tool that will make your work easy, safe and effortless while serving you for long periods. This in-depth best splitting maul reviews and guide will equip with the best information to make the right choice.
| | | | |
| --- | --- | --- | --- |
| | Fiskars Iso Core 8 lb Ma​ul | | |
| | | | |
| | Husqvarna 32" Wooden Splitting Maul | | |
| | ​​​​Estwing EFF4SE 4-Pound Special Edition | | |
| | ​Truper 32415 12-Pound Splitting Maul | | |
Our Pick: Fiskars Iso Core 8 lb Maul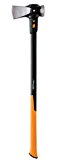 Our number one top recommendation is the Fiskars Iso Core 8lb Maul. It features a versatile 2-face design that allows use as splitting and driving tool. Its anti-shock and anti-vibration capabilities make it ideal for both personal and professional use. Another feature of efficiency is handle flair which offers superior grip. Further protection is provided by Iso Core's insulation sleeve. The sleeve captures shock before it can reach your hands.
Iso Core delivers superior wood penetration. This is the work of its advanced blade geometry. That means you will split a wood with a single strike. Its 8-pound head features strong steel construction. The steel is coated to improve rust and corrosion resistance. Fiskars has high confidence in their models just like we do. They offer a lifetime warranty. Despite its great quality, the maul is extremely affordable. Thus it will give you value for your money.
Things to Consider Before Buying a Splitting Maul
Why can't I just buy the cheapest splitting tool I find in the market? You could be asking yourself. Well, you could do it but you might come to regret the decision. A common misconception is that splitting mauls do not need to be sharp. On the contrary, a maul should be sharp but should not have fine edges like an axe. That is just one of the attributes that define a good maul for splitting wood.
However, to find the best you have to consider many other things including the following:
The Handle
The handle will determine the grip, comfort, and ergonomics of using the maul. Traditionally, most handles featured wood construction. Recently, manufacturers have introduced fiberglass and other composite materials for the handles. Many users prefer the wooden handle because it is comfortable and they look better.
Fiberglass, on the other hand, is lightweight and more resistant to environmental elements (thus more durable) that wood but they may not be as comfortable. However, some non-wood handles are feature anti-shock ergonomics making them a lot easier on your wrists.
Ultimately, the decision is yours. Choose wooden handles if you prefer aesthetics and comfort. If you care about durability and heavy use then fiberglass and other composite handles are better options. An interesting fact is that highest quality and expensive splitting maul brands have handcrafted wooden handles.
The Head
Splitting mauls differ from another log cutter because of the head. All these tools have wedge-shaped heads but they differ in certain details. One such detail is the weight. The heavier the poundage, the more force you will be capable of bringing down onto the wood. The result is a faster splitting of logs.
Unfortunately, you will be the one to swing that extra weight. You might tire easily limiting the amount of job will complete within a given time. A lighter head means less pounding. This could take forever to split large logs leading to fatigue and therefore less work done.
Weigh your options before you set out to purchase this important tool. If you believe you have the strength to handle a heavy head maul and get the job done quickly, then you know the right choice to make and vice versa. You also have to consider other users who might be interested in using the same splitting maul you purchase.
You also need to inspect how the handle mounts into the head. Is the socket strong and durable? The best way to get these questions answered is to read customer reviews of those who have used the maul before. In most cases, they will leave honest and helpful reviews and comments. Read different forums to get enough information.
An optional but equally important accessory is a hammer, especially if you are looking for a maul with a detachable head. You should prefer wooden mallets because they have minimal negative impact on the maul head.
The Balance
Balance determines the overall quality and performance of a maul. It defines the way the head is weighted in relation to the handle length and the overall design and shape of the tool. Splitting tools with the best balance are easy to use and are more efficient. If the balance is 100 percent perfect, then all you will need to do is simply lift the tool into the air. The swing will use physical forces (kinetic energy) brought about by the maul's design to split wood.
In most cases, however, the piecing together of the mauls components is not 100 percent perfect. Therefore, it is your job to find out by feeling the tool. If all the components sit well together, your splitting maul will do the bulk of the job for you, without you breaking out into a sweat. You need to keep in mind that great balance needs perfect craftsmanship and such mauls are not necessarily low-priced.
Your Budget
Money is the scarcest commodity, let's face it. But should this doom us into just going for the cheapest products in the market? Some people say cheap is always expensive. Do you agree? Well, consider this. You buy a cheap maul costing just a few dollars which break the first time you use it. It will for you to go for another one that might be better and therefore costlier.
Would it not be better for you to purchase a high-quality maul that will serve you for longer periods without requiring replacement? I believe you would agree. This means you must be ready to spend good about to get a quality product. Draw up a budget and do your shopping based on the amount you want to spend.
Keep in mind that expensive to does not mean high quality. You can still find a highly affordable splitting maul with the best features for wonderful performance. Take time to compare the desired features with the prices.
The Type Of Splitting Maul
This probably is the least important consideration but it is a consideration nonetheless. The type of maul to buy depends on what you need the tool for. The first type is the wedge maul. These are the traditional type mauls featuring wide, blunt wedge-shaped cutting surfaces. The design allows them to go deep into the wood for more efficient long splitting.
Another type is the separate wedge maul, which allows the splitting head to be separated from the handle and using a hammer, the separate wedges can split wood. This type is best if you intend to split large logs where you can use several wedges.
The last types, known as powered log splitters, are hydraulic log splitters either horizontal or vertical usually used in commercial setups. They are not suitable for personal use but if you need to split many logs, either to sell to homeowners or to supply some commercial entity then a powered log splitter is the best choice for you.
If you can realize it, the above tips require a certain level of keenness. You do not have to depend on the information given by the manufacturer. They are in business and so they will use everything at their disposal to convince you to purchase their product. Shopping for the splitting maul online is a great idea because you can read product descriptions, customer reviews, and compare prices all in the same resource. If you are a beginner, then you need to learn some lessons for your own safety before setting out to buy this important tool.
​

Top 5 Splitting Maul Reviews
I am confident that, following the above guide, you will certainly manage to buy the right wood splitter for you. However, I also understand that you may not have enough time to carry out the research needed to arrive at the right decision. So, I did the research on your behalf and now I provide you reviews of the top 5 greatly performing splitting mauls currently in the market to act as your starting point.
1. Fiskars Iso Core 8 lb Maul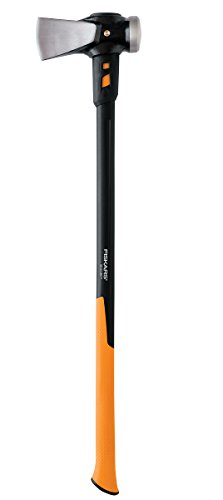 The Fiskars Iso Core is a two-faced mail designed to help in splitting wood (the splitting face) and driving stakes and wedges (the driving face). It is one of the industry's best because it has stood the test of time and provided the market with some of the highest quality tools. Here are the main features:
Innovative design: Besides the two-faced design, the Iso Core features optimized blade geometry to offer better penetration and blast even the toughest logs apart in no time. The unique design also makes this maul highly versatility to take on a variety of jobs.
Patented Iso Core Shock Control System: the system enables the maul to absorb strike shock and vibration there by reducing the beating your body takes. The technology transfers twice less vibration and shock than traditional wooden handles.
Handle Flair: This feature keeps the tool firmly in your hand while you swing. By doing so, it prevents unnecessary slipping which may threaten your safety by causing an accident.
Insulation sleeve: Fiskars included this feature to capture the initial shock before it can reach your hands. This ensures you work comfortably and for long without fatigue due to unnecessary shock.
Full lifetime warranty: To give you an idea of how great this product is; the manufacturer offers a full lifetime warranty on parts and workmanship. This should give you the confidence of the great quality of this product.
2. Estwing E3-FF4 4-Pound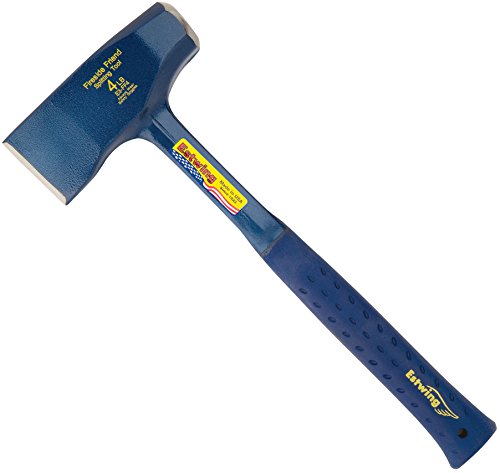 In case you have not yet found the above reviewed splitting mauls suitable for you then you might like the Estwing E3-FF4. This nicely designed blue maul/axe is well equipped to help you split your logs with ease and in good time. Here are the features responsible for its great quality:
Nylon Vinyl Handle: The unique feature of this maul is its nylon vinyl shock reduction grip. The handle will absorb the initial shock in order to protect you from the impact and vibration.
Steelhead: Estwing E3-FF4 is fitted with a strong steel head. The steel is capable of splitting into the wood with minimal effort and gives the maul durability even with extensive use.
Forged in one piece: Just like most Estwing maul/axe models, the E3-FF4 features single piece forging. This eliminates the need for detachable parts thereby improving durability and ease of use.
Lightweight: This splitting maul weighs just four pounds. This makes it easy to use but and the same time provides leverage and power necessary for smooth and easy wood splitting.
Sharp cutting edge: The E3-FF4 is equipped with sharp 2-3/8-inch cutting edge that is capable of driving fast and deeply along the grains of the log to deliver fast splitting with a little amount of effort.
3. Husqvarna 32" Wooden Splitting Maul

Another top quality splitting maul you can trust to deliver is the Husqvarna. This 32-inch maul is crafted almost to perfection to deliver easy and quick splitting of logs of different sizes. The main features responsible for its great performance include:
Heavy head and long handle: Husqvarna capitalize of a heavy head weighing 6.5 pounds and 32-inch wooden handle. A result is a well-balanced tool that works fast and efficiently
Double face: It features a functionally designed wedge face for splitting and a solid hammer face for driving. These give Husqvarna high level of versatility allowing you to accomplish many functions with a single tool.
Hardwood handle: The maul is fitted with a handcrafted hardwood handle. This not only beautiful and durable but also offers you a comfortable handling to take on long jobs without fatigue.
Superior head attachment: The head of Husqvarna is attached to the handles using both wooden and steel wedges. This helps to secure fastening during the toughest splitting jobs by taking the stress.
Leather sheath: This maul comes with a nicely designed leather sheath for its wedge. Besides giving it a nice, traditional look, the leather sheath also protects the wedge from environmental elements promoting durability.
4. Estwing EFF4SE 4-Pound Special Edition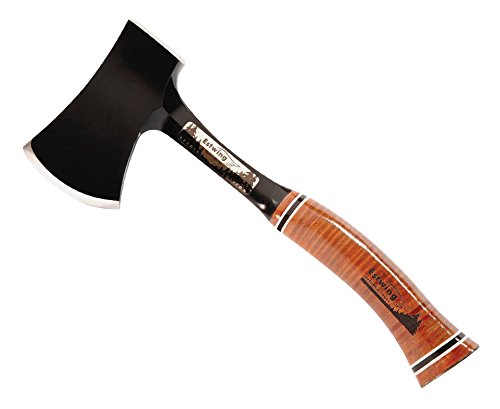 ​
Estwing EFF4SE Special Edition is worth including in our review because of its wonderful design and good performance. It features a unique design that makes it different from the others we have reviewed here. Nonetheless, it is a great choice. Here are the main features:
Compact design: The EFF4SE features a solid steel wedge with a non-reflective matte black finish. This ensures durability and ability to handle some of the toughest splitting jobs while the finish makes it extremely elegant to behold.
Stacked leather grip: This maul features genuine stacked leather handle. Such handle improves comfort and ergonomics so you do not feel fatigued quickly letting you finish the job. The leather grip is also slip-proof for your safety.
Handle and weight: The handle length and the weight of the head (total of 4.2 pounds) give power and leverage. This results in the quick and efficient splitting of the long. The overall weight makes this tool very portable.
Forged in one piece: The head and neck of the EFF4SE are forged in one piece making the tool compact and easy to maintain since there are not replaceable or detachable parts.
Sharp and geometric cutting edge: For optimal wood penetration, the Estwing EFF4SE Special Edition features 2-3/8-inch cutting edge. It also ensures smooth and accurate penetration with little effort.
5. Truper 32415 12-Pound Splitting Maul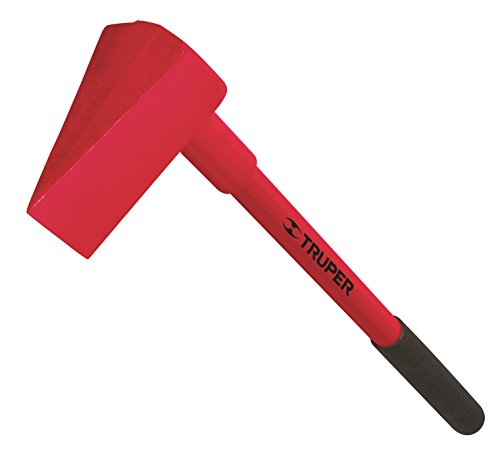 ​
Truper 32415 12-Pound Splitting Maul may not be as great as the other split cutters we have reviewed here but it is still a great choice for you if you are preparing for summer and you are working on a tight budget. It is armed with wonderful features including:
27-inch-steel handle: This maul features medium length stainless steel handle smothered for a comfortable grip. The steel construction ensures a high level of durability even with extensive use and the ability to split large logs with ease.
Rubber guarded: Truper 32415 feature a rubber guarded handle. This prevents unnecessary slip allowing you to use the tool without worrying about any accidents. The rubber grip also improves comfort and ergonomics.
Hand-crafted: Truper is a Mexican company that makes such products. Their 32415 is hand crafted although it is made of steel. The handcrafting means great quality because it pays attention to details.
12-pound head: This maul features a head weighing a whopping 12 pounds. This weight delivers enough force to split even the largest logs with ease and fast. This allows you to complete your work in record time.
Modern technology: Although handcrafted, this tool features relies on modern to technology to ensure great balance and leverage while using the tool for optimal results every day of use.
Conclusion
I believe now you can visit an online store or any hardware near you and make the perfect choice of the best splitting maul that will satisfy your needs. All the brands and models we have reviewed here are the best when it comes to performance, durability and affordability. They can easily fit your budget if you care to go for a maul that will serve you for a good period without requiring replacement. If you do not find what works for you in my top 5 reviews then you can use the in-depth buying guide I provide you with initially to arrive at the right decision. Buy the best maul and prepare yourself adequately for the coming winter when fireplaces will be the most important part of your home. I urge you to carry out adequate research before making any decisions but you can rely on my picks. Many users will agree with me that these five splitting mauls are among the best.